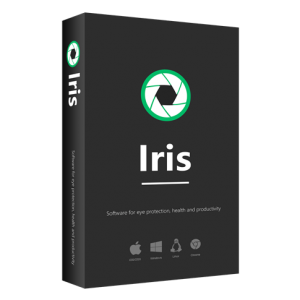 The popular software for eye protection, health and productivity. Get Iris Pro 1.1.9 with an activation code for free in today's software shop giveaway!
Iris Pro Review at a Glance
Iris Pro 1.1.9 is a useful software application, designed to protect your eyes from harmful effects of the computer screen. Along with filtering the blue light, this application will let you adjust the color, color temperature, and brightness to an optimal level that will suit your eyes the best.
With Iris Pro, you can apply more complex color effects to the screen. Some screen effects can be helpful in case of color blindness. The available effects are Inversion, Grayscale, Negative Grayscale, Washout, Sephia, Photanopia, and many more. In color scheme, you have 4 types to choose from, and you can even choose the leading color of the scheme from red, blue, and green.
Iris Pro allows you to specify a period after which you should take a break from your computer –it is set to 30mins by default. Also, you can choose to have a rest immediately and even the period a rest should last for. The tabbed configurations in the advanced settings page are pretty awkward. A menu would have done a better job. Despite this, Iris allows you to calibrate the lighting and color settings for up to 4 monitors, and you can even change the font type. Change the strictness level if you want to follow the procedure without failure and enable sounds for sound reminders during rest times.
Key Features of Iris Pro:
User Interface
Iris high and low-level Color APIs
Preserves perfect display calibration during the day
Temperature slider
Brightness slider
Manual/Automatic Temperature
Manual/Automatic Brightness
Manual/Automatic Location
Manual Night duration
Keyboard shortcuts
Multiple monitors option support
Pause color changes when this software is running
Multiple Color temperature schemes – Magmus, Olaf, Iris, Groot
Color inversion and color effects
GDIPP, ClearType and other font renderings
Break reminding and timers
Part screen color changing
Magnification
AI
Blink detection
Exercises
Hidden features
New features and innovations
Requirements
To run Iris Pro with optimum reliability and performance, your system should match the following requirements:
Supported OS: Windows OS, Mac OSX, Linux OS
Iris Pro 1.1.9 Giveaway
Enjoy the full features of pro version
Instructions:

Click on DOWNLOAD button to download the installation file

Install it & Run. Activate Iris Pro with the following license key: iris-giveaway

Enjoy

TERMS:

Automatically download according to the download link provided by the other party, license code is one year.
NOTE: Please Do not Report if Iris Pro Deal/Discount Coupon/Giveaway has a problem such as expired.
ENJOY!