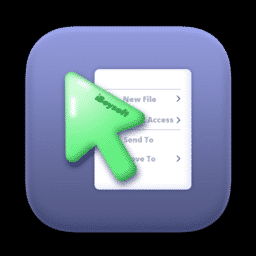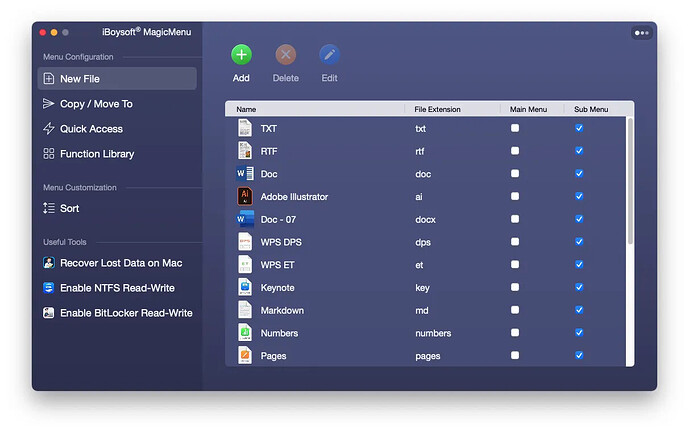 Get the easiest but professional way to customize your right-click menu on Mac here. iBoysoft MagicMenu is a high-quality desktop customization software on Mac that can help you generate new files, including TXT, RTF, Doc, Numbers, Pages, PPT, WPS, XLS, and png. Furthermore, you can use the "Move To" function to move a file to a target path with a single right-click. You even can input folders, disks, applications, and webpage links to the control panel with your right-click.
Key Features:
It allows you to create a new file such as TXT, Doc, XLS, PPT, etc
It helps you import blank or pre-edited template files as shortcuts from local folders
It has the Move To function to input folders to the Move To menu and quickly move a file to a target location
The Copy To menu function helps you copy files to the target path faster.
This tool offers quick access to files stored on Downloads, Documents, Pictures, desktops, and Music.
iBoysoft MagicMenu also provides quick access to the web pages you frequently browse without saving them as bookmarks.
You are allowed to add Function Library, such as screen recording, screen capture, hide/unhide files, copy file path, and cut file to the right click options on Mac.
You can use it to add self-developed functions by uploading scrip
It has the ability to create new categories and manage functions in Function Library
This software supports sorting functions and categories
Supported OS: macOS Monterey, macOS Big Sur, macOS Catalina, macOS Mojave, and macOS High Sierra
How to get the iBoysoft MagicMenu license key for free?
Step 1. Download the installer for iBoysoft MagicMenu version 2.0 –> iBoysoft MagicMenu
Install the software on your Mac.
Step 2. Use the below activation code to register it
63D4A02063D5A0A263D5A03E9D8830B9
This is a 1-year license
Non-commercial usage
No free updates and tech support
Register before August 9th, 2022
Enjoy!