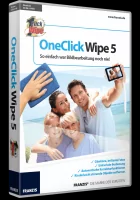 Image editing has never been so easy!
Image editing has never been so easy! Improve contrast, colors, sharpness at the click of a mouse. The software performs a deep analysis of the image beforehand and recognizes people, mountains, sky, sea, and buildings in order to be able to carry out the perfect optimization.
Website: https://www.franzis.de/fotografie/fotobearbeitung-raw/oneclick-wipe-5-download
Giveaway: link – link
Download: One-Click-Wipe-5_winde_COMPUTERBILD.exe – – One-Click-Wipe-5_winde_digitalphoto.zip
NOTE: installation setup will be in german language, once installed go to C:\Program Files\Franzis\One Click Wipe 5\basic\Localize\ and delete the file named Deutsch.txt
Enjoy!