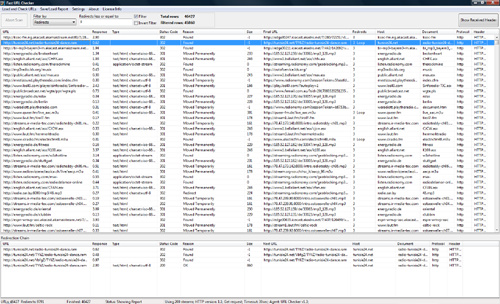 Fast URL Checker scans and checks lists of URL addresses quickly and gives you all information you may need. Status code, response time, content type and its length. It checks for redirects, gives you final destination URL and all relocations in between.
Giveaway details
Terms of the offer
Giveaway version
Non-commercial use
No free updates
No free tech support
source winningpc
Instructions
Download and install Fast URL Checker.
Open and enjoy this software lifetime, this is a pre-registered installer.
Feature Highlights
Load huge lists of URL from various formats
Checks all relevant parameters (status code,redirections,header…)
Get and Head request methods work with the equal speed because no content
Detects long redirection chains and Loops which occur if two pages redirect to each other repeatedly
Multiple instances can run at the same time
Has handy functions in right click menu such as copy selected or all url
Raw headers can be searched so virtually there isn't header information that you can't get from it
Can use hundreds of simultaneous connections and get the job done in shortest time possible
Can run in single connection mode where only one connection is run at a time
ENJOY!