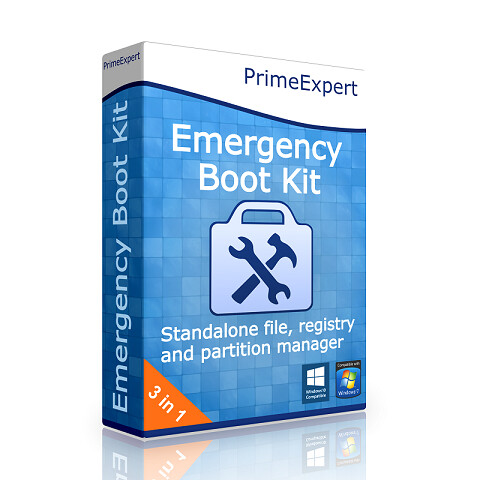 Looking for ways to copy files from your computer, even unbootable ones, to an external USB thumb drive or USB HDD? Believe it or not, Emergency Boot Kit can solve all of your needs in this instance. This tool helps you backup and restore files without Windows. More importantly, it also creates, formats, deletes, and wipes partitions. It even can backup partitions to image files, restore them back, and copy partition-to-partition.
Key Features:
Copy files from your computer, even an unbootable one, to an external USB thumb drive or USB HDD.
Save your data in an emergency situation when Windows no longer boots.
Supported filesystem types: FAT, NTFS, EXT2/EXT3, ISO9660, UDF, and BSD UFS
Builtin editor and viewer for text files can handle numerous ANSI/OEM encodings and UTF-8/UTF-16
Reset Windows password
Remove forgotten or lost Windows passwords,
Unlock Windows user account and restore access to your PC
Fix various boot related problems: reassign and fix missing drive letters (mount points), including disk C:, in Windows installations
Easily edit boot menus (boot.ini of NTLDR and BCD of Bootmgr); fix boot records and active partition flags.
Create partition, backup partition to the image file, backup partition to image file, restore partition from the image file, edit partition metadata
Supported OS: Windows XP, Vista, 7, 8/8.1, and 10 (32-bit and 64-bit)
Price: $39.95/ lifetime
How to get the Emergency Boot Kit license key for free?
Step 1. Download the giveaway installer for Emergency Boot Kit version 1.6n –> click here
Step 2. Install the software on your computer then click on the "Register this software".
Step 3. A registration page should open in your default browser after that. On that page, just fill out the form with your name and a valid email and confirm.
Step 4. You will receive the free license key in your mailbox
Step 5. Copy and paste license key to register software
Step 6. Enjoy it!
This is a lifetime license for Emergency Boot Kit version 1.6n
Non-commercial usage
No free update and tech support
Can't be registered for new devices after the promotion is over
Enjoy!