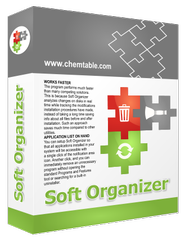 You can easily remove even multiple applications in Soft Organizer by simply selecting all programs you don't need anymore and clicking "Uninstall". It allows you to remove traces of programs that were not tracked while installing and remove universal Windows 8/10 apps that were installed from the Windows Store.
Giveaway details
Terms of the offer
Giveaway version
Lifetime license for version 7.52
For use on a home computer only.
Updating to new versions is not indicated.
No free technical support.
source winningpc
Instructions
Download and install Soft Organizer Pro on your computer. Launch the program and use the above license code to activate it.
Feature Highlights
Uninstalls programs and searches for their traces
Automatically removes stubborn programs that won't uninstall
Program rating based on the database of removed applications
ENJOY!