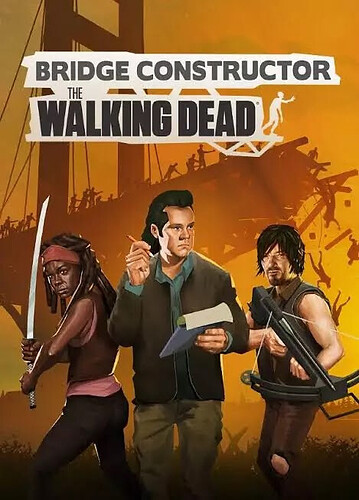 Note:-This game is available for free till July 15, 2021, at 08:30 PM.
Experience the fun of KILLING WALKERS using the POWER of your BRAIN!
Prepare for the ultimate mashup experience! Bridge Constructor: The Walking Dead combines the legendary and challenging puzzle gameplay of Bridge Constructor with the post-apocalyptic zombie universe of AMC's The Walking Dead.
Join a group of survivors as they fight against hordes of undead walkers and a hostile human community. Build bridges and other constructions through bleak landscapes and ruined structures. Team up with fan-favorite characters like Daryl, Michonne, and Eugene, and create safe passage for iconic vehicles from the series.
Use movable level objects, explosives, and baits to your advantage as you lure walkers into lethal traps and guide your survivors to safety. Enjoy the physics-based frenzy and ragdoll animations as walkers succumb to the forces of gravity.
FEATURES:-
• AMC's The Walking Dead meets Bridge Constructor
• Create elaborate constructions and lethal traps
• A captivating plot featuring new faces as well as iconic characters and vehicles from the series
• Numerous brainteasing levels and countless brain-eating walkers
• Make use of movable objects and explosives to lure walkers to their doom.
• Save your survivors and smash the undead hordes
• Brutally funny walker ragdoll physics.
Specifications:-
WINDOWS
Minimum
OS-Windows 8, 10
Processor-3 GHz
Memory-4 GB
Storage-400 MB
Direct X-DirectX10 compatible
Recommended
OS-Windows 10
Processor-6 GHz
Memory-8 GB
Storage-400 MB
Direct X-DirectX10 compatible
MAC OS
Minimum/Recommended
Processor-3 GHz
Memory-4 GB
Graphics-DirectX10 compatible
Disc Space-400 MB
OS-OS X 10.9+
Languages Supported
AUDIO: English
TEXT: Arabic, English, Chinese - Simplified, French, German, Italian, Japanese, Korean, Polish, Portuguese, Russian, Spanish - Spain, Thai, Turkish
The process to get:-
Visit the Link
Click on Get.
Log in to your Epic Game Store account. Click on Place order.
On successful order, you will get a receipt in your email. Download Epic Game Launcher, install it on your computer to access your game.
Enjoy