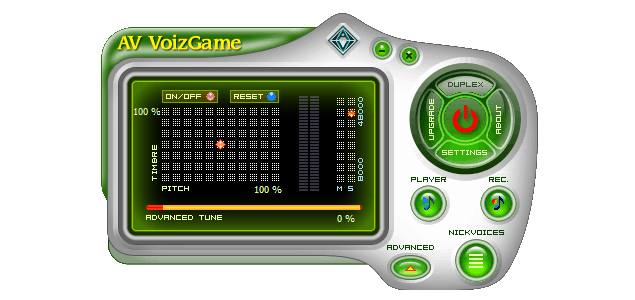 AV VoizGame gives you well selected 10 nickvoices of both male and female specialized for online role-playing games. Now you can totally disguise your real identity and have fun.
Giveaway details
Product name: AV VoizGame v6.0.71
License type: lifetime
Platform: Windows
Giveaway license: zQTICh1Dg3LO4Dm
Download: Giveaway_AV_VoizGame.exe
Terms of the offer
This is a 1-computer lifetime license
No free updates
No free tech support
You must redeem the license key before this giveaway has ended
Noncommercial use only
How to get
Download and install AV VoizGame (the download link is given to you above). After install, run AV VoizGame and register it with the following license key.
Highlights
Dual voice changer algorithms: Hooking and Virtual Audio Driver
Change your voice's timbre and pitch at the same time.
10+ Ready-to-use Nickvoices
16 available equalizer presets and more
Background effects
Record your changed voice and interesting conversations
ENJOY & HAPPY LEARNING!