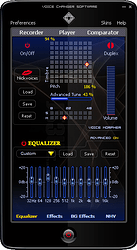 AV Voice Changer Software does not simply change your voice in real-time. It creates a complete home audio workstation that provides all the tools you need to create your own great recordings. Your voice will sound deeper, higher, younger, older, more feminine, more masculine, or modified in any way you like; you're in charge.
Giveaway details
Terms of the offer
Giveaway version
Non-commercial use
No free updates
No free tech support
Register before this offer has ended
Credit to winningpc.
Instructions
Open the giveaway page, enter your name, email then click "Get" button. The license for AV Voice Changer Software will be shown.
Download and install this software on your computer. Use the license information above to register it!
Feature Highlights
Change voice's characteristics
Digitally signed integrated Virtual Driver
Preset voice settings
List of available vivid effects to embellish output quality
Play back audio/sound files of different formats
Record voice, played-back songs, streaming audio, etc.
Compare voices for simulating purposes
ENJOY!