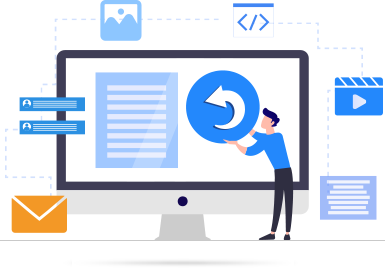 AOMEI MyRecover Pro | 1 Year License
Losing data is a very terrible thing in the digital world because you will be impacted at one time or the next time. Your important data can be lost accidentally deleted, virus attack, format, etc., which can instruct to unnecessary stress as you struggle to find and get them back. Luckily, AOMEI MyRecover Pro is a comprehensive and professional solution to recover lost data from HDD/SSD in Windows 11/10/8/7 with a high recovery rate.
It can be used to easily recover more than 200 types of data including texts, pictures, videos, audio, emails, compressed files, etc. AOMEI MyRecover Pro also provides flexible scanning modes like Quick Scan and Deep Scan to help you discover lost files most conveniently. In addition, previewing recoverable data before final recovery to avoid unnecessary file recovery.
Key Features:
AOMEI MyRecover Pro is an easy-to-operate tool to recover lost/deleted data from Windows within 3 easy steps.
It can help your get back your data loss in all data loss scenarios in Windows.
This tool can recover lost data at a high speed & recovery rate.
It also includes Quick Scan & Deep Scan features to search for data without any omissions.
It supports NTFS, FAT32, exFAT, and ReFS in Windows 11/10/8/7 & Windows Server.
Supported OS: Windows 11/10/8/8.1/7/Vista, Windows XP
How to get the AOMEI MyRecover Pro license key for free?
Step 1. Download the installer for the Pro version 2.6.0 –> click here
Step 2. After the download is finished, run the .exe file to install the software.
Register it with the AOMEI MyRecover Pro license code. Use the below license:
AMDR-B9LAR-TDMTK-ZW2HY
Please hurry up and activate it before December 28, 2022, after that the code will not be able to activate anymore.
It is a 1-year code that entitles you to use it for free for one year.
The code is for personal use only, please don't disclose and sell it on the internet. Or, it will be disabled immediately
Enjoy!