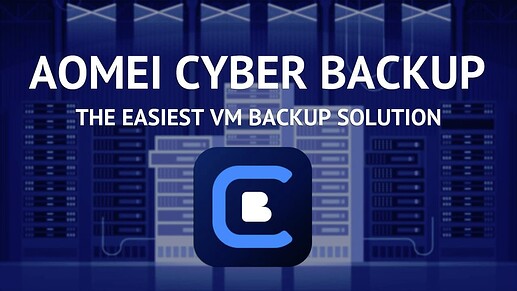 [Giveaway] AOMEI Cyber Backup | 1 Month License
Many of us believe that our data in the company are well protected from any situation. But the truth is not like that, your data will still lose in case of disaster strikes. So, how can recover the entire data in the shortest time to back to work as if nothing has happened? AOMEI Cyber Backup is a powerful enterprise backup solution that provides a wide range of enterprise data backup options to help you back up or recover data in disaster problems to ensure the highest resilience.
The main feature, the heart of AOMEI Cyber Backup is the management and control of virtual machines without complicated configuration. It simplifies the backup process and presents the steps with an intuitive GUI interface to protect all data in VMware, Hyper-V, and SQL Servers. This solid and reliable backup tool is suitable for businesses of all sizes from small to medium-sized companies to backup data in a hybrid cloud with the highest good level of tech support.
Key Features:
AOMEI Cyber Backup can back up and restore virtual machines in an agentless manner.
It will add Hyper-V and VMware VMs to the centralized console.
You can use it to create a backup task with several simple clicks.
It allows you to back the virtual machine to local or network storage
Flexible backup schedule and retention policy.
This tool can help you restore the virtual machine to the same or another host.
Also, it has the ability to monitor and manage all the backup tasks.
Supported OS: Windows 11/10/8/8.1/7/Vista, Windows XP
How to get the AOMEI Cyber Backup license key for free?
Step 1. Download the installer for AOMEI Cyber Backup –> click here
Step 2. Run the software, log in with your AOMEI Cyber Backup account,
and click on Setting/ License Code/ Enter license code then enter the below AOMEI Cyber Backup activation code to register it.
AMCB-ODSKB-QWW9U-WPR9L
Please hurry up and activate before April 2, 2023, after that the code will not be able to activate anymore.
It is a 30-day code that gives you access to all the advanced features and backup unlimited VMs.
The code is for personal use only, please don't disclose and sell it on the internet. Or, it will be disabled immediately.
Enjoy!