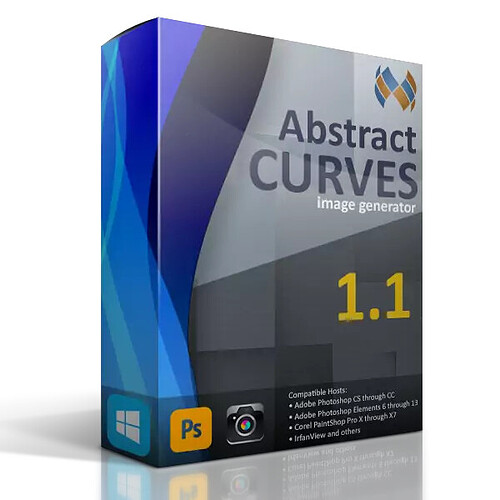 Generate stunning backgrounds, wallpapers, posters, logos, patterns, icons, and avatars.
Let your imagination run wild. No experience is needed to enter the special world of digital abstract art. All you need is an eye for appreciating the intricate beauty which evolves automatically within the graphic images that AbstractCurves will generate for you with just a few simple adjustments. The only hard part is knowing when to stop.
Features:-
130+ built-in presets in 10+ galleries
30+ built-in color palettes with 7000+ colors
No image size limits - Generate pictures up to 8191px without loss in quality
Adding generated images to your photos (Open Image Mode)
Works as a standalone application and as a plugin - 8bf file format
Save images in high quality
Scripting support (Plugin only)
Popup nag screens
Create, edit and delete color palettes to set foreground and background of abstract image
Create, edit and delete presets/panel presets to save your own archive of abstract images
Create, edit and delete galleries to categorize your images
Transparent background option for creating logos, icons, avatars, etc.
16-bit image support
No popup nag screens
Software:-
Download - Link
Install and paste the license.reg to the main directory it installed.
Note:- As it is a giveaway software activate ASAP.
Enjoy!