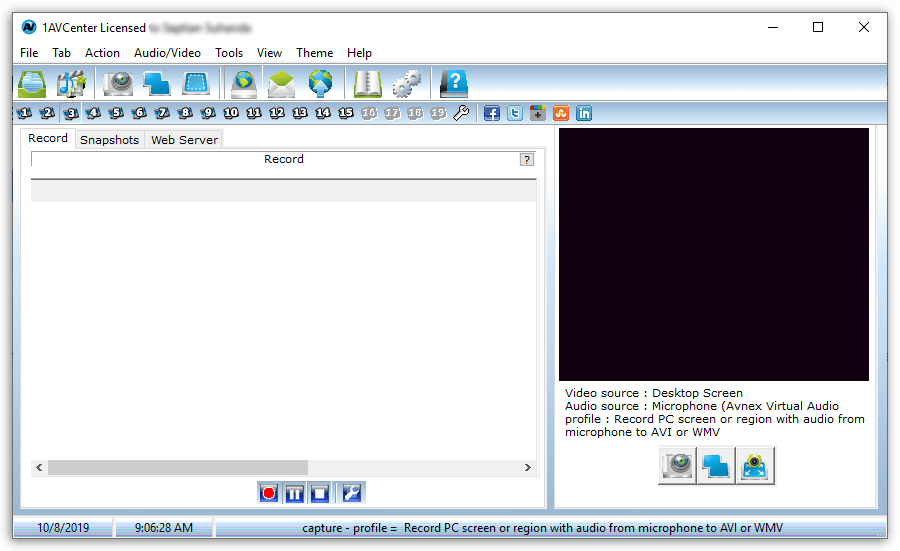 1AVCenter by PCWinsoft is a complete audio video center. With 1AVCenter you can record, broadcast, and make remote surveillance of any source of video and audio of your PC. This video capture software also comes equipped with a secure webserver to share files. Tucows rated 1AVCenter with 5 cows.
This video streaming software can also stream live video and audio from any source directly to the Internet or to media servers. It also can do remote surveillance of your webcam, desktop screen, or microphone. 1AVCenter can also allow users to do secure file sharing with friends, family, and co-workers. Plus it can e-mail files and upload them via FTP.
Record videos from websites like YouTube.
Record your favorite songs from websites like LastFM and Internet radios.
Record narrated video tutorials.
Stream live content and easily embed it on your webpage
Stream playlists of video files (AVI, WMV, MPEG,…).
Stream RTMP directly to Media Servers such as Wowza, Flash Media Server, Red5, and others.
Make remote surveillance on your PC or webcam.
Share files securelly over the Internet.
Chat with your friends or co-workers.
Tucows rated 1AVCenter with 5 stars.
1AVCenter is an all-in-one type of software with many abilities and one of them is to record desktop video capture to AVI using any codec installed, and WMV with full control over the recorder profiles, and directly to MP4. You can capture the full screen or a region or a window and you can set the frame-rate from 1 up to 30. As soon as you click 'Record' the user interfaces hide itself so it doesn't show on the recorded video, to stop recording you can simply the program icon on the system tray or you can use keyboard shortcuts.
1AVCenter and 1AVCapture allow you to record what you hear, to record your PC speakers. You must record the audio device 'Stereo Mix' because this is the audio device that corresponds to your PC Speakers. If you can't find it on your 'Recording Devices' then go to Realtek website and download drivers for your version of Windows. That will install 'Stereo Mix' audio device on your system. 1AVCenter and 1AVCapture can record what you hear to WAV, MP3, or WMA.
Giveaway 1-Year License / 1 PC
The family 1AV of programs is headed by 1AVCenter which is a video and audio recorder, a remote surveillance tool, a live streaming solution, an FTP publisher, and a secure file sharing application.
How To Get License

Click on the BUY NOW
You will go to the registration page by PCWinsoft
In the registration page, fill in the form with the required data and click on the NEXT button
In the next page, just follow the instruction form PCWinsoft to install & register the program.
Done.

Enjoy the full features

Personal web server
Capture of video
Broadcast of video
Broadcast of audio
Surveillance of video
Surveillance of audio
Capture of images
Scheduler

TERMS:

Software version: v2.4.0.70
License can be used on 1 PC
License valid for a lifetime
No Free Update
No Free Support
Platform: Windows
ENJOY & HAPPY LEARNING!