I think the coupons have expired, it works on applying but not while checking out.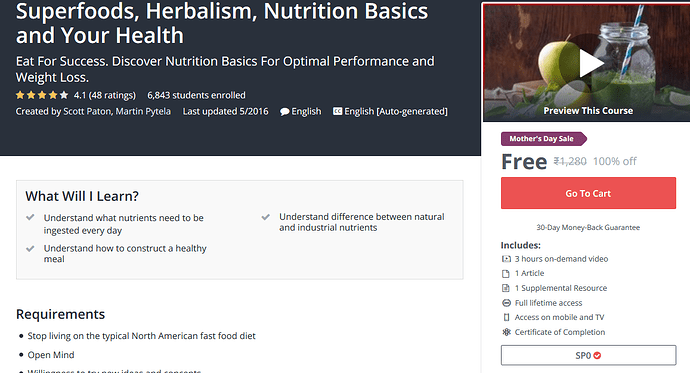 Any solution or way around ?
works fine here, just enrolled.
maybe change browser?
Does that happen when someone uses too many coupons?

just asking
Only happens if u get enrolled within a er short periods of time. … Wait few minutes after enrolling one course …
I changed and cleared browser tried after 2 hr, Nothing works. Seems its expired
Nothing expired. Problem is u can't enroll
Hi @SladeX_Xeon as you can see the coupon code is "SP0" right?
then try to type the coupon code "SP0" below [Checkout_box] then click [Apply]
wait 'til the price change to zero or Free
then you may now click the Checkout button and enroll.
just give it a try!~
I can't
Its shows Invalid discount code format. for sp0
it's something or your end, works fine.
make a new udemy account and try.
I found a work around, guess it had something to do with my ip.
I tried with both my new and old udemy account, didn't work.


Then I used a hola plugin for and now it got enrolled and worked out

Thanks Tadej_Danev, Autonomous_Guy, seener for the help
I have a problem with you only having one option, I have purchase and add to cart option. which allows me to purchase on the course page…instead of going to the actual cart (which clears some of my coupon codes)…so yeah does anyone else look like this.??
edit: using chrome on desktop as well as firefox.
Personally don't have any problems to resolve but find it odd to have to use an extension for something that should be so basic??
First make clear which device u r using and browser
I agree there might be something to do with my browser or clearing cache, though i had cleared it both. But since the vpn thing clicked me and it worked, I didn't gave much thought about the why and whats, coz the prior thing for me is that it worked. Maybe there is something I missed. And I already had posted the screenshots of what I am getting.
And on purchase to enroll, it showed "An error has occured"., so eventually I had o go to the cart option which has worked in all other scenarios.
Thanks MrTR