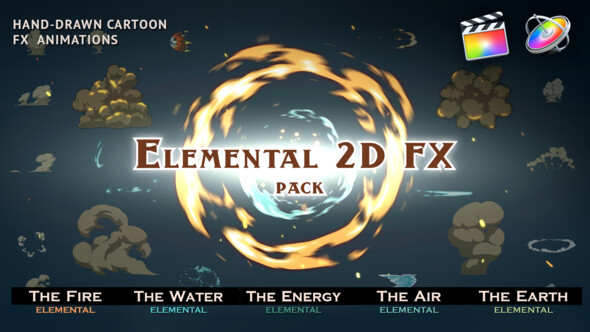 Elemental 2D FX is a package hand-drawn FX animations. You can use all non-linear editing tools that support mattes and compositing software like Adobe Premiere Pro, Adobe After Effects, Sony Vegas, Edius etc.
The pack will be updated with new items. All updates are FREE for buyers, who have already purchased this pack.


The Fire element: Fire, Smoke, Exploisions, and Sparks
The Water element
The Energy element: Energy and Electricity
The Air element
The Earth element

over 1000 prendered clips (QuickTime clips with Alpha channel)
RTFX extension[After Effects] for Mac OS and Windows(CC2015.3+):
260+ unique elements
600+ Scribble and Stroke variations
AE CS6+ project
220+ Mogrt-files for Premiere Pro CC2019.1 and later versions [adapted for Motion Factory extension]
Video tutorials
12-24 frames per second
Video tutorials
ELEMENTALS
TRANSITIONS
LOGO REVEALS
UPDATES
Update 28.05.2020: - Bug fixes - All FX are rendered in PNG sequences

Update 06.05.2020: - RTFX extension V.3.0 support

Update 11.07.2016 - New elements (x20)

Update 14.11.2017 - New elements (x30)

Update 23.06.2018 - MIX elements (x27) - Scribble and Stroke elements(over 100)

Update 10.09.2019: - Full redesign of the package - New elements

USED MATERIALS
Some materials in the promo video licensed under a Creative Commons BY. You can find more the information here
All Rights Reserved to the Videohive. This content has been shared under Educational And Non-Profit Purposes Only. (Leaked by Playboy83 and thanks to him to bring it down)
Download Detail
Go To Base64 & Decode:
aHR0cHM6Ly9tZWdhLm56L2ZpbGUvWU50SDBZb1QjMjlxMjZuWmtNTjNNcE5UQjhEcEFOSmRRSzZaaFRUSUZrQkNIREwwN1FHZw==
Do backup please, if maximum members can do it, that would be great to keep the topic alive!
ENJOY & HAPPY LEARNING!