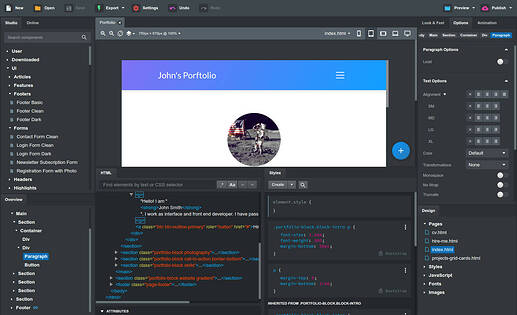 A powerful desktop app for creating responsive websites using the Bootstrap framework.
Bootstrap Studio is a powerful desktop app for designing and prototyping websites.
It comes with a large number of built-in components, which you can drag and drop to assemble responsive web pages. The app is built on top of the hugely popular Bootstrap framework and exports clean and semantic HTML.
Version 4.5.0 May 22, 2019
WHAT'S NEW
Charts are here! You can create responsive Bar, Line, Pie, Scatter and other types of charts, and easily customize them.
You can now optimize images during import. This can reduce their file size dramatically and improve page load times.
IMPROVED
The image browser dialog opens faster, shows larger previews, file sizes and dimensions.
FIXED
Bugfixes and minor improvements.
— GET —
VirusTotal : No Detection No Harm. Fully Clean! (Source: Nulled)
ENJOY & HAPPY LEARNING!