UPDATE 24/APR/2020, we get wht we deserve… ID got cancelled.
EXPIRED : 17:37 PM 21/APR/2020
step 1: IP: USA,BIN : 650981 ZIP: 10001 go to
https://www.godaddy.com/smartline/second-phone-number
make an account.
Choose any temprory american no from godday take a trial
step 2: Download their app, andriod link:
https://apkpure.com/smartline-second-phone-number/com.godaddy.gdm.smartline
NOTE: in mobile also connect IP: USA ,now login
step 3: IP: USA zip 10003 or 10001 make yourself and bin for netflix is 519404, goona ask for OTP verfication
cpy and paste the no from godday and u will recieve OTP in mobile and verify u got the
account.
credicts: @techsahil UPDATE working as far 14:43 PM IST 21/APR/2020 Posted on 6:40 AM IST 20/APR/2020
-AN update this thing still working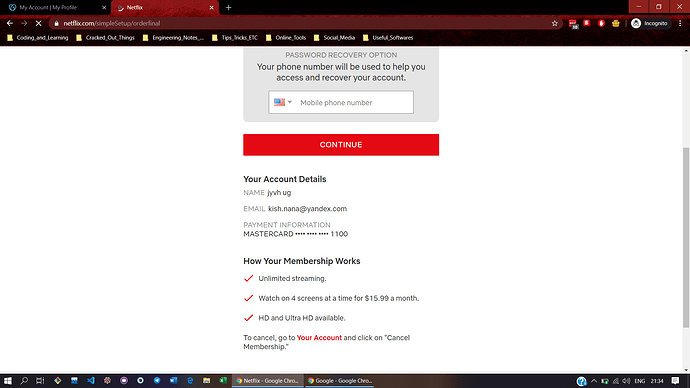 NOTE: so many guys pm ing me one profile for me, i can understand how bad u want to use the netflix, guys i made yestarday so many accounts for pm d ppl, some ppl just asking accounts,guys whatever i have all i gave to ppl who asked like you,some ppl changed the email and password which i 2 can't access now nevermind, i made it for free.
so guys,you 2 want account just pm me with your goddady no dont just come with empty hand, i would love to make one for u guys, as i cant be online always so reply fast guys so many ppl replied late yestarday, and i 2 got error in goddady and netflix error as u guys getting error, i just changed the device it worked for me dont give up for free things, and STILL WORKING 14:43 PM IST 21/APR/2020