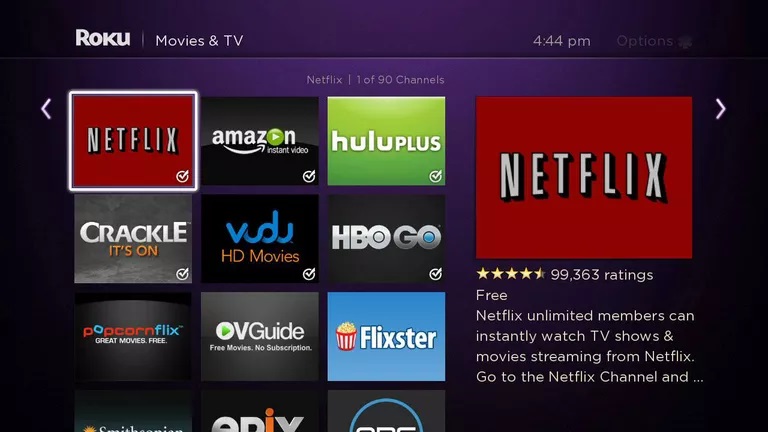 When shopping for a media streamer, many people want first to know if the player can connect to their favorite online sites. More and more the decision to buy a particular player is based upon whether you can stream your Netflix, watch the latest TV episodes on Hulu Plus, or listen to music on Pandora.
Many of the content providers have a list of devices that can stream their videos or music. This is helpful whether you are trying to find a device that will stream online content from a particular site, or see if that device can also play the site's content.
Netflix
Netflix has shifted its focus from delivery of DVDs to a monthly subscription video streaming service. It seems as if you can find Netflix on nearly every device from TVs and DVRs to Blu-ray Disc Players, video game consoles, and most media streamers and network media players. Netflix has a comprehensive list of devices.
Hulu
While Hulu can be viewed on your computer, Hulu Plus is the service that can be found on devices. It requires a monthly subscription and has an extended library of TV shows—from old classics to new episodes right after they have aired. Here is the Hulu Plus list of devices. Expect this list to continue to increase.
Amazon Prime Video
Amazon Prime Video is Amazon's digital movie service. You can rent, and stream movies with its service or you can buy the videos. The videos you buy can be downloaded to your computer or compatible device, or they can be accessed from your account library and streamed directly to the media streamer. The Amazon on Demand list of devices is also increasing.
Pandora
Like Netflix, Pandora got an aggressive jumpstart in getting their service included on media streamers, network media players, and many TVs and home theater devices. Pandora's list of devices may be incomplete; it seems the page has not listed more compatible networked TVs. The basic ad-supported Pandora stations are free, but you can subscribe if you want unlimited ad-free music streaming.
Napster
Napster is a monthly subscription music service. It boasts ten million songs, and you can choose to play whatever song, album or playlist suits your fancy. Napster posted a short list of network audio players for those who are real music lovers.
There is an ever-increasing number of special interest online content providers. These include sports—such as the NHL for hockey lovers and the MLB channel for baseball—or food, travel, and online content in different languages or different religions. Check the media streamer's or network media player's manufacturer's website to get a complete list.
ENJOY & HAPPY LEARNING!