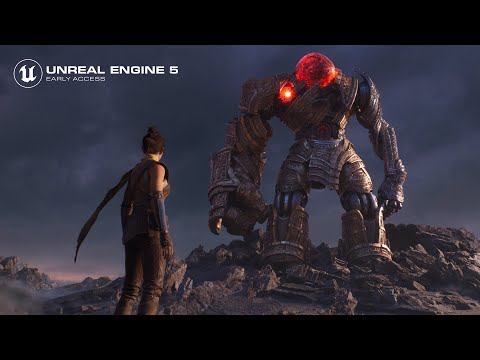 After years of work, Epic Games is launching early access for game developers for Unreal Engine 5, the latest version of the company's tools for making games with highly realistic 3D animations. VentureBeat reports:
Unreal Engine 5, which will officially ship in 2022, is the company's crowning technical achievement. The early access build will let game developers start testing features and prototyping their upcoming games. Epic isn't saying how long this took or how many employees are working on it, but it's a safe bet that a large chunk of those devs are involved in Unreal Engine 5. It's been seven years since the last engine shipped. Unreal Engine 5 will deliver the freedom, fidelity, and flexibility to create next-generation games that will blow players' minds, said Nick Penwarden, the vice president of engineering, in an interview with GamesBeat. He said it will be effortless for game developers to use groundbreaking new features such as Nanite and Lumen, which provide a generational leap in visual fidelity. The new World Partition system enables the creation of expansive worlds with scalable content.
Developers can also download the new sample project, Valley of the Ancient, to start exploring the new features of UE5. Captured on an Xbox Series X and PlayStation 5, Valley of the Ancient is a rich and practical example of how the new features included with Unreal Engine 5 early access can be used, and is the result of internal stress-testing. The demo features a woman named Echo in a deserted mountain area. The team from Quixel, which Epic acquired in 2019, went out to Moab in Utah to scan tons of rock formations, using drones and cameras. And the artists who created the demo populated the scene with Megascans assets, as opposed to using anything procedural or traditional animation tools. "We are targeting 30FPS on next-generation console hardware" at 4K output with the demo, said Penwarden. "We expect people to be targeting 60 frames per second. It's really a choice of the the gaming content itself, what you want to target, and UE5 is absolutely capable of powering 60 frames per second experiences. We chose to, in this case, absolutely maximize visual quality. And so we targeted 30fps. But we're absolutely going to support 60 frames per second experiences."
You can view a demo of Unreal Engine 5 running on both the PS5 and Xbox Series X here on YouTube.