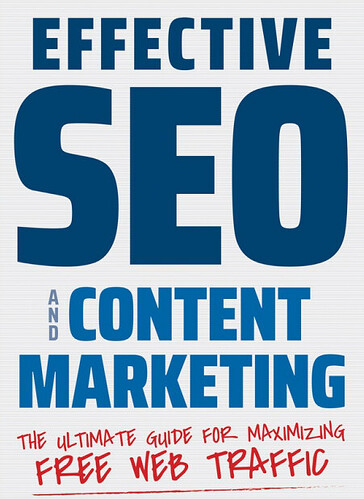 Introduction
This book came about after many intensive hours in the digital marketing, content, and SEO spaces. I've been in the industry for 20 years and have had all kinds of experiences, clients, and projects: some good, some not as good. This book is designed to offer modern-day marketers the templates, processes, education, and other resources to help them execute free traffic initiatives through effective search engine optimization (SEO) and content marketing. I've seen many wasted hours on projects that didn't meet goals, and this book outlines how to ensure your program runs as optimally as possible. SEO and organic content are often underutilized and overlooked across the marketing realm.
SEO is not merely trying to improve your website ranking onGoogle. SEO can spark and optimize ideas, and organic content can be the form for those ideas. SEO is no longer a stand-alone discipline; it has evolved beyond a simple marketing tactic that should be applied throughout the marketing process. Iwould argue it should be used to inform and regulate the complete marketing process in an effort to optimize free traffic levels to your brand. In my opinion, maximizing your organic (free) traffic channels should be a top priority, and this book provides insight on how to do that. This is the most effective way to spend total marketing efforts and dollars. From working with social media influencers to steering creative ideas and campaigns, modern-day SEO requires a full-service perspective of marketing and processes. To date, it's hard to find a book that provides a comprehensive view on how to incorporate SEO throughout each marketing discipline and the broader marketing delivery process.
Currently, many books on the market focus mainly on the basics of SEO but fail to demonstrate how and why SEO needs to be integrated into each marketing competency (social media, PR, creative teams, etc.) for the best return on total marketing investment.
The following are the key areas of this book:
General education on SEO and organic content execution, and marketing
Important search engine strategies and analytic reports
Understanding which search engines to focus on
How SEO and content can solve business problems
Building a new brand through SEO and content
Identifying who your true competitors are
How to establish research channels that can inform your business initiatives
Building personas and audience purchase journeys
Prioritizing locations, demographics and countries
What needs to be in place to maximize free traffic levels to your brands assets
Understanding all the key tasks and attributes for an effective content program
Data-Driven Content: Detailed instruction on how to use data to inform content responses, ideas, and asset types
Understanding different content asset types from standard items like articles to highly advanced assets like films, podcasts, white papers,
and other assets
Calculating ROI for SEO and Content initiatives
Building an SEO and Content vision through your company with the right content principles, team structure and processes
Small business marketing via content and SEO and having the right small business mindset for success
Website and content design considerations (accessibility, principles of marketing)
Optimizing for the future and looking at other search venues
AmazonOptimization
YouTube Optimization
App Store Optimization (ASO)
Podcast Optimizations
Optimizing Blogs and other off-site content)
Prepping and optimizing for the newest technologies, including voice search, artificial intelligence, and content discovery vehicles
How to build an optimization path and programs that drive results and manage risks
The book aims to provide an exponential return on investment by optimizing marketing budgets across paid and owned content via nonpaid tactics like SEO and organic content marketing. It also aims to bring the readers up to speed on the latest and emerging SEO tactics and factors, content marketing principles, and processes. It also provides quizzes for each chapter, checklists, templates to get started, and interviews with industry leaders.
Happy learning!