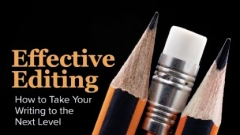 Effective Editing: How to Take Your Writing to the Next Level
Discover the crucial phase between drafting and publishing with writing coach and editor, Molly McCowan. With Molly's guidance, we created Effective Editing: How to Take your Writing to the Next Level, which provides you with a step-by-step, self-editing process filled with tools and techniques that will help improve your narrative writing skills.
Topics Covered:
By This Professor
01: Understanding the Four Levels of Editing
02: Planning Your Edit
03: Editing for Plot and Structure
04: Editing for Dynamic Characters
05: Tackling Point of View
06: Page-Turner Pacing: Scene versus Narration
07: Building Stronger Scenes
08: Showing versus Telling: Beyond the Basics
09: Dialogue That Sparkles
10: Sentences That Sizzle
11: Pruning Your Prose
12: When to Ignore the Grammar Rules
Happy learning!