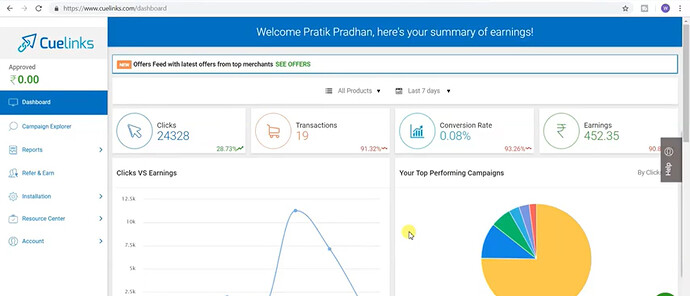 What Is Cuelinks Affiliate Program?
Cuelinks Is A 2-Minute Content Monetization Tool For Bloggers, Deal Site Owners, Coupon Sites, Forum Owners Or Any Publishers Or In Fact, Any Websites Which Send Outbound Traffic To Online Shopping, Travel, Finance Or Matrimony Websites. It Helps Publishers Monetizes Their Content In An Effective Manner And With Minimal Efforts From Their End.
Cuelinks Works Same As Admitad, Vcommission & Payoom. Cuelinks Helps Your Contents By Monetizing The Normal Links To Affiliate Link, Every Time User Makes A Purchase Through Your Links, Cuelinks Will Track That Transactions And You Will Get Rewarded As Few Bucks ( That'S How It Works ).
Full video in Hindi