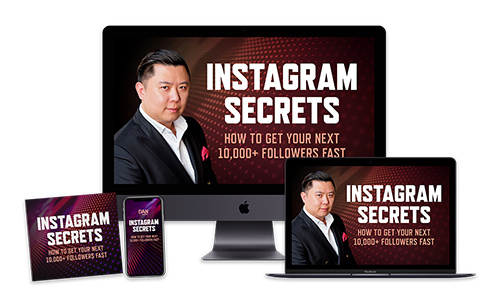 How To Get Your Next
10,000+ Instagram Followers Fast
The Event Is Taught By Dan Lok And Blake, The "Instagram Assassin"
Dan asked Blake to join his team, because he wanted to know ONE thing…
What is the secret to get an insane amount of followers fast?
Dan was only getting a couple hundred followers a week (at best)…
That's when Blake joined the team and got Dan an extra 10,135 followers in 7 short days.
(That's like getting 40,400 followers per month!)
Imagine how fast you could grow your Instagram if you used the same techniques that Blake used.
Will you get an extra 10,135 followers in a week too? Maybe.
Are you going to get Instagram famous overnight? Maybe.
But it won't happen if you don't take action and implement what Blake teaches you.
When You Get The Official Recording Of Instagram Secrets Taught By Dan Lok And Blake, You'll Discover:
​The fastest, easiest way to get your next 10,000+ Instagram followers (Once you start using the 4 pillars of Instagram growth, your follower count will explode practically overnight!)…

​How to get started right, your very first time (you get a detailed, hold-you-by-the-hand action plan so you bypass the normal learning curve!)…

​The simple shift in your thinking that gives you an unfair advantage over 99.4% of the Instagram accounts who are competing for the same followers you are…

​How to overcome the two DEADLY mistakes most people make with Instagram…

​The "5 Second Butterfly Effect" to skyrocket the amount of likes and comments you get on any post!

​And much, much more!
Download From Here! (Watch On Mega Instead Of Download)
DISCLAIMER: No Copyright Infringement Intended, All Rights Reserved To danondemand. I Have Used To share under Educational And Non-Profit Purposes Only. Credit to Dan Lok. And this forum recommends to Buy the content if available to buy to support creators. No takedown action intended, else Contact me.
ONCE THE FILE GETS WIPED NO BACKUP REQUEST PLEASE! BETTER GET IT FAST.
ENJOY & HAPPY LEARNING!
I DON'T HOW LONG THIS SHIT WILL STAY UP, SO BETTER TO GRAB IT FASTER!