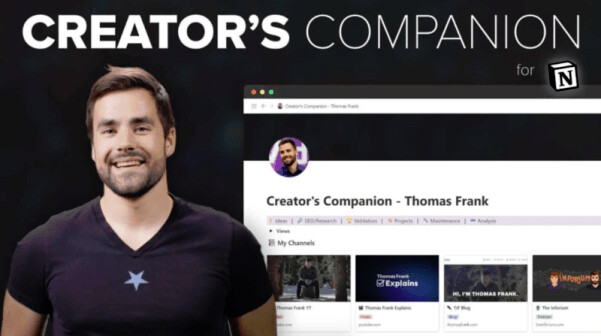 Thomas Frank - Creator's Companion (Ultimate Brain Edition) Update 1
What You Get:
The Ultimate Brain edition of Creator's Companion comes bundled with the popular Ultimate Brain template – my all-in-one second brain system for Notion.
Ultimate Brain lets you seamlessly manage tasks, notes, projects, and goals in Notion – and includes both GTD® lists and P.A.R.A. organization, a la Tiago Forte's Building a Second Brain.
The bundle comes with a fully integrated version of both of both templates – meaning you'll see all the notes and tasks you add to your content projects inside Ultimate Brain's dedicated Note and Task dashboards.
Deep integration with the Ultimate Brain template – a full second brain for Notion
Add tasks, sub-tasks, AND notes to any content project
Track everything in your life – tasks, notes, projects, and goals
GTD®-style processing dashboard
P.A.R.A. organization dashboard
Tutorials and Documentation
SALES PAGE: https://thomasjfrank.com/creators-companion/
DOWNLOAD FREE
Password: wsodownloads.in OR wsodownloads.site OR WSODownloadsite.com
Happy learning!