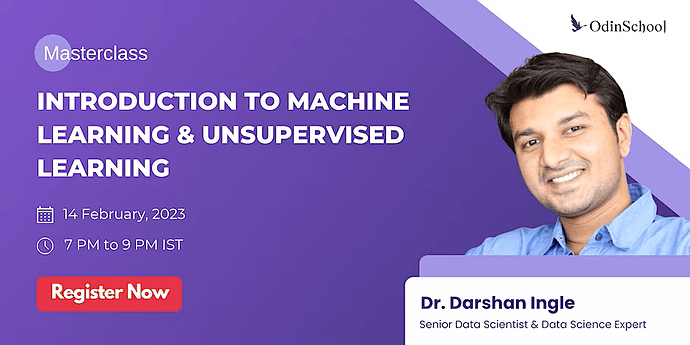 Explore machine learning & unsupervised learning concepts from Dr. Darshan Ingle, Senior Data Scientist & Data Science Expert. Learn Customer Segmentation on shopping mall data using Unsupervised ML algorithm - K-Means Clustering.
Who is this Masterclass for?
Data Science aspirants
Data Science enthusiasts
Professionals who want to switch to Data Science
Students
Benefits:
Interact with seasoned Data Scientist
Explore unsupervised learning concepts
Get the speaker's presentation slides and raw data sets
Win a surprise bonus at the end of the session
Date & Time: February 14, 2023 | 7.00 PM to 9.00 PM IST
About Mentor:
Name: Dr. Darshan Ingle
Designation: Data Scientist | Technical Speaker
Dr. Darshan Ingle is an experienced Trainer and Professor with a demonstrated history of working in the corporate and education industry. He has 13+ years of experience. He is a Sr. Data Scientist and Data Science Expert with skills in Python, R, Data Analytics, Machine Learning, Natural Language Processing, Deep Learning, TensorFlow, Statistics, Excel, Tableau and Power BI.