David Verney, CEO of Blog-One-Stop-Shop is giving the premium courses 100% off.
First go the Blog One Stop Shop.
2.Click on SignUp and Register.
3.The Following Courses are offered:
1. Internet Marketing For Stay at Home Moms - From Beginner to Six-Figure

This will take you right from the start of your online career and walk you through all the aspects of building your online business.

Many women have gone from earning a mediocre income to earning double their pay online. What is topping you from being the next success story?

In this course you will learn…

How to pick the right niche
How to create a winning product
How to set up a professional looking website.
How to drive tonnes of traffic to your website
The benefits of working from home on your dream business
The income models of internet marketing
The golden rules of internet marketing.
How to finally leave that dull, mundane job and work for yourself.
2. Peak Productivity Blueprint

Discover How To Triple Your Productivity, Get Things Done & Achieve Your Goals FAST Without working longer hours, burning out and freaking out!

Here are the things you will discover in this life-changing program:

How to plan your day for success with maximum efficiency
Useful tips to create a productive workspace
Types of people you should avoid if you want to be productive
9 elements of a productive mindset that you need to know
How by 'Eating The Frog' first thing in the morning will boost your productivity
4 proven & effective ways to manage and eliminate procrastination
Discover the '2-minute rule' to get more things done
Why you should stop 'multi-tasking' (it's more destructive than you think!)
Why taking a break can help you refresh and refuel your mind to get more done
How to fight stress and anxiety by doing this one simple thing
11 practical tips to declutter your life and boost your focus
The one simple exercise that you can do every single day to clear your mind
7 simple healthy eating tips to keep you focused and energized
How to take advantage of your 'Productive Times'
3 simple strategy that you can use to prioritize your most important tasks
How to delegate, outsource, and useful tools to complete tasks faster
3. How To Stop Worrying What Other People Think Of You

Introducing … How To Stop Worrying What Other People Think Of You.

Are You Ready To Use Your Comparisons With Others Positively And Live Life On Your Terms?

It's About Time For You To Stop Worrying About What Other People Think Of You!

Here's Just A Quick Preview Of What You'll Discover Inside:

Why We Compare Ourselves To Others
The Dangers Of Comparing Yourself To Others
How To Make Healthy Comparisons
Small Steps For Big Changes
Love Yourself More And Stop Being Overly Dependent On Others
Boosting Your Self Esteem
Give Your Confidence A Real Boost
Advanced Tactics To Compare Yourself To Others In A Good Way
Comparing Yourself With Others Best Practices
Plus, a whole lot more…
4. Work From Home Productivity

Struggling to work from home?

Is your workload getting on top of you?

Discover How To Stay Productive Working From Home and Develop Your Mind For Success!

Finally! How To Work From Home and Get More Done All While Staying Sane!

Here are what you will learn in this program…

How to create accountability and stakes to motivate yourself to work
How to tackle tasks and structure your workflow for maximum productivity
How to introduce positive habits that keep you happy, healthy, and focused
How to optimize your health, wellbeing, and other self-care tips
How to use amazing apps that let you do more and save a HUGE amount of time
How to create a perfect home office. What makes a productive office, what you should avoid, and what you should implement.
How to start each day feeling charged and ready to go
How to take maximum advantage of the work from home lifestyle in order to spend more time doing what you love
Why you should "eat the whole frog" first thing in the morning
How to overcome writer's block. We all know it's a struggle trying to write or create. Follow these tips and tricks to help you overcome writer's block
Tools and software to help you collaborate with other team members
How to organize your workspace for productivity
How to deal with isolation and loneliness working from home
Plus much, much more!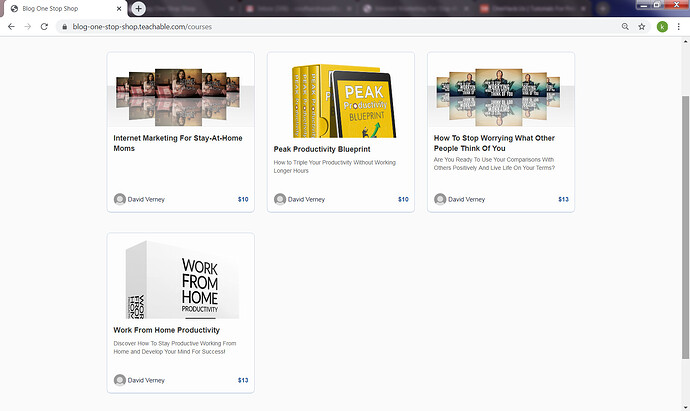 Select any course and Click on "Add Coupon".

Add the following Coupon: MAKINGYOUTHEBOSS420
6.Click on "I agree to Terms-of-Use and Privacy Policy" Checkbox and Enroll into the course.
ENJOY