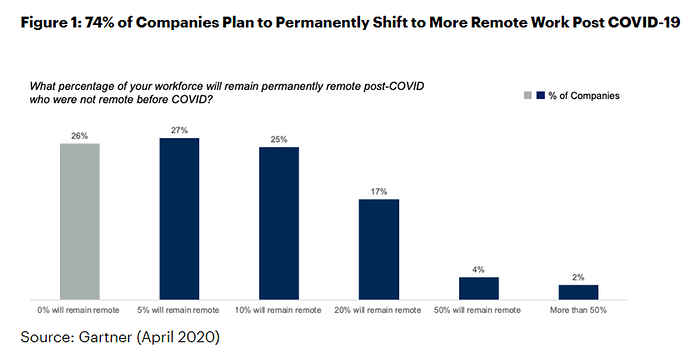 An anonymous reader quotes a report from ZDNet: The new normal telecommuting may be a bit more permanent than realized, as 74% of CFOs say they expect to move previously on-site employees remote post-COVID-19, according to a Gartner survey. The survey, which had 317 CFO respondents on March 30, highlighted how remote work may become more of the norm as companies look to cut commercial real estate costs.
Gartner found that almost a quarter of respondents said they will move at least 20% of their on-site employees to remote work permanently. The research firm is taking the pulse of the COVID-19 CXO shifts in a series of surveys.
Among the key shifts from CFOs and enterprises as they manage cash via COVID-19 shutdowns:
- 81% of CFOs plan to exceed their contractual obligations to hourly workers and to fund that they are using remote work to offer flexible schedules and maintain operations.
- 90% of CFOs said their accounting close operations will be able to run effectively without disruptions off-site.
- 20% of CFOs said they are cutting their on-premise technology spending with 12% planning the same move.
- 13% of CFOs have already cut real estate expenses with another 9% planning cuts in the months to come.