CrxMouse Chrome™ Gestures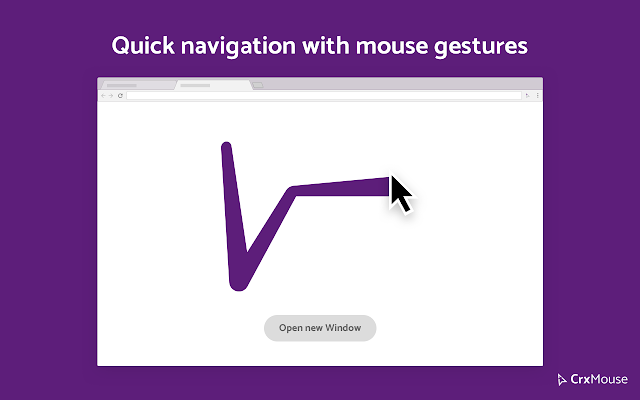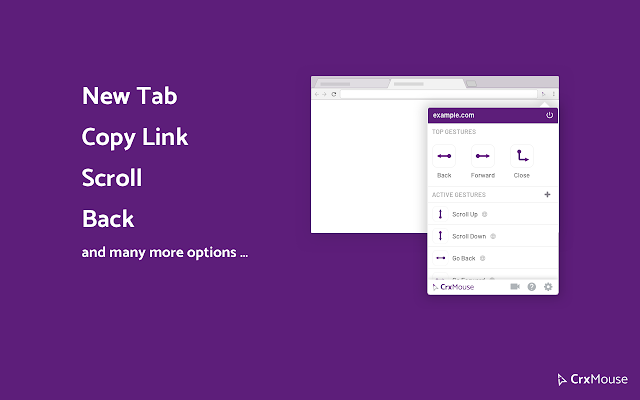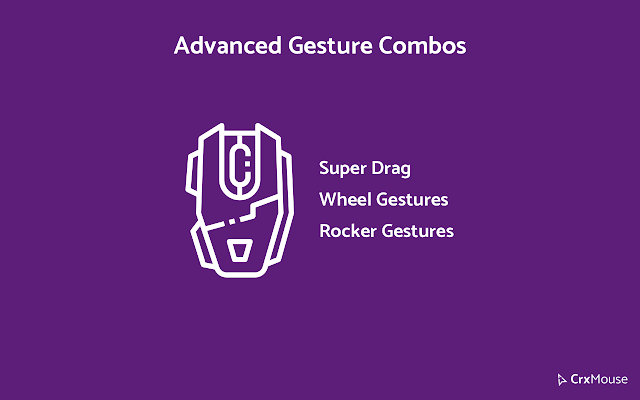 Boost browsing productivity with mouse navigation shortcuts - simple Mouse Gestures, Super Drag, Wheel Gestures, Rocker Gestures.
crxMouse Chrome™ Gestures brings the power of the Chrome browser to your fingertips, boosting your productivity.
The power of this extension is making navigation easy and simple!
★ Use crxMouse to customize mouse gestures and make your browsing more productive and each mouse movement more effective!
**crxMouse is forever free. No paid edition or account, no advertisements.
crxMouse includes support for:
★ Windows, Linux and Mac
★ Import and Export Configuration
Please note: Mouse gesture navigation doesn't work on Chrome's built-in pages because of Google's security restrictions.
Mouse Gesture Built-in Actions:
Press + Hold Right Button (anywhere on the screen) and Drag to perform the following:
↓→ : close current tab
↓→↑ : open a new window
← : back
←↑ : reopen closed tabs
→ : forward
→↓ : scroll to bottom
→↑ : scroll to top
↑ : scroll up one page
↑↓ : refresh
↑↓↑ : force a refresh
↑← : move to the left tab
↑→ : move to the right tab
↓→↓ : close current window
---
Super Drag Built-in Actions:
Press + Hold Left Button and drag links to perform the following actions:
→ : open link in a new tab
← : open link in a new tab (background)
←↓→ : copy text
→↓← : copy URL
Press + Hold Left Button and drag text to perform the following actions:
← : search in new tab (background)
→ : search in a new tab
---
Wheel Gestures Built-in Actions:
Press + Hold Right Button and scroll to perform the following actions:
↑: scroll to top
Press + Hold Left Button and Scroll to perform the following actions:
↓: scroll to bottom
---
Our users help CrxMouse provide the best and most popular mouse gestures for any given site. To identify the best ones from the CrxMouse database, we need access to the All Hosts, tabs, clipboardRead, clipboardWrite, bookmarks, notifications, storage, unlimitedStorage, webNavigation, webRequest, webRequestBlocking, and contextMenus permissions from which we collect anonymized browsing data.
We care greatly about your privacy. For more information, please read our privacy policy: https://crxmouse.com/privacy/