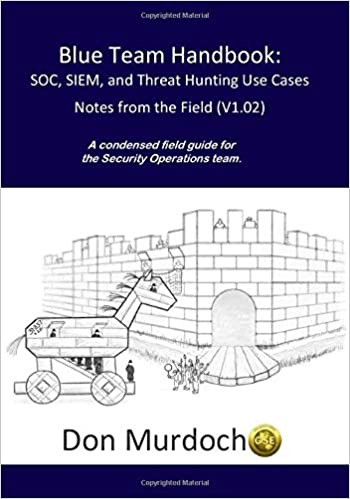 Blue Team Handbook: SOC, SIEM, and Threat Hunting Use Cases is having an amazing impact on Security Operations worldwide. BTHb:SOCTH is the go to guiding book for new staff at a top 10 MSSP, integrated into University curriculum, and cited in top ten courses from a major information security training company. This listing is for V1.02.BTHb:SOCTH provides the security practitioner with numerous field notes on building a security operations team, managing SIEM, and mining data sources to get the maximum amount of information out of them with a threat hunting approach. The author shares his fifteen years of experience with SIEMs and security operations is a no frills, just information format. Don Murdoch has implemented five major platforms, integrated over one hundred data sources into various platforms, and ran an MSSP practice for two years.This book covers the topics below using a "zero fluff" approach as if you hired him as a security consultant and were sitting across the table with him (or her).The book begins with a discussion for professionals to help them build a successful business case and a project plan, decide on SOC tier models, anticipate and answer tough questions you need to consider when proposing a SOC, and considerations in building a logging infrastructure. The book goes through numerous data sources that feed a SOC and SIEM and provides specific real world guidance on how to use those data sources to best possible effect. Most of the examples presented were implemented in one organization or another. continue reading…
Go To Base64 & Decode:
aHR0cHM6Ly9tZWdhLm56L2ZpbGUvRE5wVFdaYkEjME1pUnVmRElVYUFxSmJKM3ZqY3A3c3YyWmFIMnIzMlQ2T1l4SGVwaTE1aw==
Enjoy!