Who has tried this.is it working
@SaM Thanks friend. A tremendous upload indeed!
People are wondering if this is for real. So I am including some detail below:
I am attaching a screenshot to show everyone what they get when they unrar the file.
A note: The videos are not in English. People here are saying these are in Hindi. That's not quite accurate; the videos are voiced in Urdu language, which the same for most people here.
In some of the videos the presenter types along in English, so maybe some can figure it out by that. But this is not true for all videos.
I have to say the videos are amazing. I've never seen anything like it. May be because I am a newbie, but in my experience few people take the time to explain the basics in such detail. From the dates on screen the videos were recorded in April of 2020, so the info is quite recent.
Many thanks for sharing this. It is my top priority to work my way through these videos.
Emile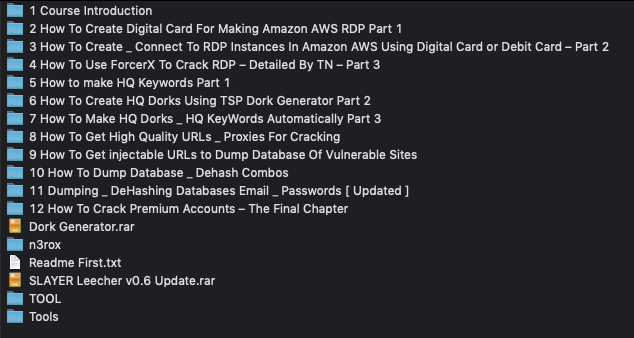 you can always count on SaM…
It is very small course and I went through complete course, can be done within few hours. It explains everything written in titles. Presenter is clear and explains same thing twice in some videos for beginner like me. Must watch. Thanks SAM for sharing it!

EDIT: the course is in hindi but the I think uploader tried to add english text to it. Though it won't give you that english subtitles feeling but it is helpful for those who can't understand hindi and want to go through course. English text in notepad++ is not that detailed enough but you can use it to get basic idea.
Thanks Sam!



please upload a course ( [Become A Pro Carder – A Guide By Technical Navigator [PDF])
the youtube channel is (technicalnavigator)
thanks
It is indu

Slale tools mei trojan dalto ho
It is a cheater because in some tool their is a trojan
These tools are not trojan brother. these are python based programme mostly used for cracking thats why it shows trojan in antiviruses.
remarks: dont use if you are curious about your security.
people wont give you Accounts in free LOL



You are rock @SaM … Thanks anyway

Thanks SaM.

Thank you for sharing! Really awesome!