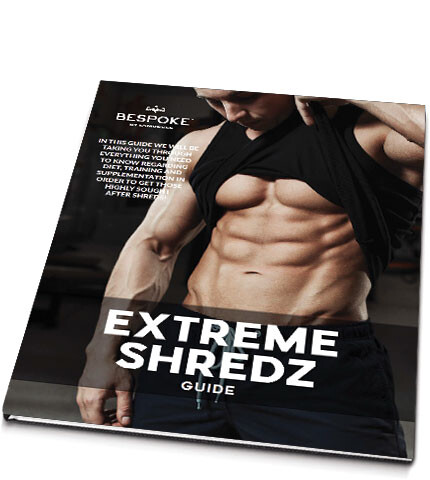 IN THIS GUIDE WE WILL BE TAKING YOU THROUGH EVERYTHING YOU NEED TO KNOW REGARDING DIET, TRAINING AND SUPPLEMENTATION IN ORDER TO GET THOSE HIGHLY SOUGHT AFTER SHREDS!
THESET-UPEXTREME SHREDZTHE MACRO SET UP WE'RE GOING FOR WILL BE AS FOLLOWS:As you can see, we're opting for a high protein, high fat diet whilst keeping the carbohydrates very low as this will fire up your metabolism and will force the body to be more effective at burning fat. Carbohydrates not used are always stored on the body as fat so this way you'll be replacing those carbohydrates for energy with fats which will make your body a lot more efficient at burning body fat. The high protein amount will ensure all your hard earned lean muscle doesn't waste away along with the body fat!2The first step would be to ensure your diet is in a calorie deficit to make sure you are able to drop body fat and the way to do this is to calculate your daily calorie intake and macros in order to decide how much you should be eating each day. Macros (macronutrients) are the breakdown amounts of protein, carbohydrates and fats required by the body each day to function properly and achieve your nutritional requirements. Calculating macros for cutting is estimating how much protein, carbohydrate and fat you will need to get lean. TDEE (Total Daily Energy Expenditure) is also required.IFYM have a good BMR and TDEE calculator that you can use for free. Go to the link below and input your basic details (age, height, weight) and it will tell you your basal metabolic rate and TDEE.http://www.iifym.com/iifym-calculator/Once you have done this, you will have a rough guide as to your daily calories required to maintain your current weight as well as both cutting and bulking.CARBS - 50 G PROTEIN - 154 G FATS - 127 G
Bespoke Extreme Shredz Guide
Diet, training and supplementation for shreds
Get highly sought after shreds
Includes diet, training and supplementation
Comprehensive guide
Happy learning!