"Becoming the Hacker ($31.99 Value) FREE for a Limited Time"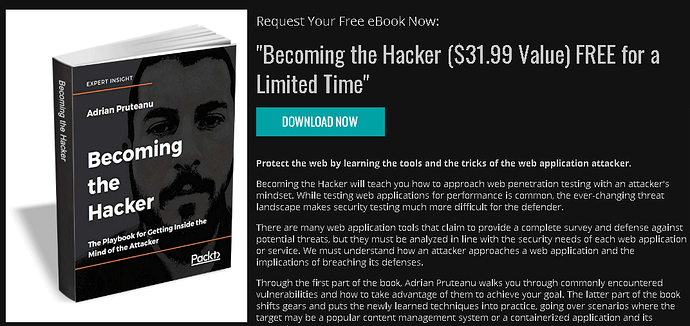 Becoming the Hacker will teach you how to approach web penetration testing with an attacker's mindset. While testing web applications for performance is common, the
ever-changing threat landscape makes security testing much more difficult for the defender.
There are many web application tools that claim to provide a complete survey and defense against potential threats, but they must be analyzed in line with the
security needs of each web application or service. We must understand how an attacker approaches a web application and the implications of breaching its defences.
Becoming the Hacker is a clear guide to web application security from an attacker's point of view, from which both sides can benefit.
Builds on books and courses on penetration testing for beginners
Covers both attack and defense perspectives
Examines which tool to deploy to suit different applications and situations
Free offer expires 3/3/2020.
or link below (no need account register)
https://pastebin.com/3sL6xCT9
DISCLAIMER: No Copyright Infringement Intended, All Rights Reserved to the Actual Owner.

This content has been shared under Educational And Non-Profit Purposes Only.

For Copyright Content Removal Please Contact the Original Poster (OP)
1Hack have no control over the shared content and nature of the external sites.