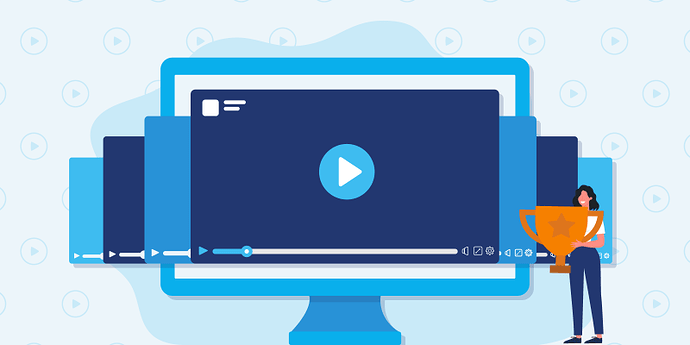 Are you Looking for the best free online movie streaming sites? Here's where you can watch free and legal movies anytime anywhere you want!
I did not mention the YouTube link, as far as I know even kids can name it.
Boasting a solid array of syndicated content and original productions, Crackle is a must for any film buff. Its rotating selection varies, but you'll find quality movies across genres here.
Aside from films, Crackle features television shows, including original programming. And using the Activate a device option in the top-right, you can enjoy Crackle on your TV too.
CONtv, formerly known as Viewster, features both comic books and videos. You can use the menu in the top-left to show only Videos if you aren't interested in the former.
Among the TV shows on offer, you'll still find some free movies to enjoy here, including a lot of horror B-films. Some of it requires a subscription, but a lot of the content is available to watch for free.
Hoopla has one barrier to entry, but is still an easy way to legally watch movies online for free. To use Hoopla, you'll need to create an account and link your supported public library card.
Once you do, you can use Hoopla to borrow movies and TV shows, plus audiobooks and ebooks, from your library. The service is available on the web as well as apps for all your devices and TV streaming boxes.
If you don't have a library card or your library doesn't support Hoopla, you won't be able to use it. But if you can, it's a service worth checking out.
While Vudu is best known for its digital video rentals and sales, it has a sizable selection of free movies to stream too. With a comprehensive array of movies and TV shows, plus fresh additions arriving regularly, it's a fantastic service.
Vudu's free section operates similarly to Crackle by providing full movies with limited commercials. Through hosting films with ads, Vudu is able to offer free movies and TV shows legally.
You need to register for a free Vudu account to use this service, but it's worth doing so. Once you do, you can use your account to activate digital copies of movies and shows, as well as buy and rent movies from Vudu.
Peacock is NBC's streaming service and a relative newcomer to the free movie streaming space. While you can sign up for Peacock Premium to get access to top-tier shows and movies like The Office and Despicable Me, there's a lot available on the free tier too.
Make a free account, and you can enjoy tons of content from the NBC catalog on all your devices. There are ads in the free version, unsurprisingly.
Like Crackle, Popcornflix presents full movies with limited ads. Here, you'll find a range of movies in a rotating selection, with no account required to start watching. The service even offers some original content, to boot.
Flicks are segmented into categories such as popularity, genre, new arrivals, and staff picks, making Popcornflix easy to use. With a beefy lineup and excellent navigation, Popcornflix is an awesome choice for free, legal movie streaming.
As the name suggests, Classic Cinema Online focuses on older content. Even its website aesthetic captures a decidedly retro vibe, using a backdrop of red theater curtains. You can walk through the decades here with films from the 1930s to the 1960s. There are even some silent films on offer, if you're interested in those.
Some of the inclusions may have you calling the definition of "classic cinema" into question. Nevertheless, Classic Cinema Online is pure gold for old-school movies.
ShareTV is a free streaming service, and you don't have to sign up to view the content it offers. As something a bit different to the rest of the sites on this list, ShareTV deals exclusively with TV shows, so you won't find any movies there.
Handily, if ShareTV has a show with episodes that aren't available on it, it links to where you can get the missing episodes and watch the complete season. That's a pretty great feature.
ShareTV also has a decent online community, as it offers a guide for the best shows to watch, alongside video clips and detailed episode information. There are even community discussion boards available you can join. It may not offer movies, but it's still a great free option for streaming content.
XUMO is a streaming platform that lets you watch live and on-demand TV for free. It doesn't require you to sign up and gives you access to over 190 channels.
The free streaming service's On Demand category presents all of its available channels neatly divided into categories. You can easily browse through them and select what to view.
You have Holiday Hub, TV & Movies, Comedy, and more. For example, from TV & Movies, you can select American Classics and see plenty of titles to choose from, including The Lone Ranger and The Immortal.
XUMO offers an impressive library of movies and shows, and the best part of the viewing experience is you won't see any ads.
Funimation is another free anime-centric streaming service. It offers more than 720 features, divided between familiar classics and newly created content.
You can browse the streaming platform and select what to watch next based on genre or even your mood. The free service offers subbed or dubbed titles and lets you mess with the fonts and text background until you're happy with your viewing experience.
Funimation is free with no sign up requirement, but you do see ads. Depending on the length of what you're watching, you can sometimes get three to five ads per video. As annoying as that can be, at least you're consuming free content.
Providing free movies and shows, Tubi is another fantastic service for legal movie streams. Here, you'll be able to view newer movies from as recent as 2021, as well as older favorites.
Helpfully, Tubi offers a Leaving Soon category. This lets you prioritize your streaming queue so you can catch movies and shows before they disappear. Be sure to check out the Not on Netflix collection, too.
Pluto TV has a lot to offer. You'll find a Live TV section where you can switch between channels, much like traditional cable. Switch to the Movies section on the left side to jump to channels that only play films, though they may be in the middle of something depending on when you start watching.
If you can't find something that you like on the live stations, switch to the On Demand section at the top. Here you'll find tons of free movies you can start streaming right away.
Although Yidio isn't a video host, it does act as an excellent aggregator of free streaming movies and TV shows. The way Yidio works is by redirecting you to third-party services such as Amazon Prime, Netflix, and others. As such, certain films and shows here do require a subscription.
Using the Free filter on the left side will help you find movies and TV that come at no cost. Unfortunately, not everything in the free categories is actually free. Clicking on some titles prompts you to sign up for a free trial.
Still, Yidio makes finding free movie streams far easier than checking individual sites manually. You can filter by rating, genre, and more to find something to watch.
Crunchyroll is an anime-focused streaming platform. It's completely free and lets you watch shows online without having to register for an account. Using Crunchyroll's free version means you'll have to brave ads, though.
If you're an anime fan, you're bound to find something to enjoy on the free streaming service. It offers over 1,000 titles of various anime features, both well-known and established ones like Attack on Titan, as well as original content like Onyx Equinox.
Apart from a Shows category, Crunchyroll also has a Manga section, allowing you to keep up-to-date with your favorite title. The streaming site is set up with the viewer in mind, so the platform is easy to navigate.
Formerly known as Viewster, CONtv Anime is a free video streaming site that focuses on anime. It also offers a selection of the latest Hollywood and Bollywood flicks. CONtv provides its users with high-quality content of pretty much every genre there is: action, sci-fi, drama, comedy, adventure, and more.
Though CONtv has in-video interruptions, it does its best to limit them, so they don't get impossible to handle. It's still a great option to consider given that it offers free content.
Tubi TV doesn't ask you to sign up to enjoy its services. The streaming site lets you access an array of free content: movies, shows, docuseries. Everything is neatly organized by genre, and there's even a section for kids' content.
You can access Tubi TV from any device as long as you're connected to the internet. Tubi TV also has an app you can download for your smartphone or tablet. A handy feature that the streaming service offers is how it lets you sync your activities and favorite movies or shows across all devices. You can pick up where you left off, regardless of the device you're using.
Don't be fooled by The Roku Channel's name. While it's available for Roku streaming devices via an app, you can watch on the web too. In a few clicks, you can stream Roku Originals, popular TV shows, and new-arrival movies.
The selection rotates, and there are categories on the main page to help you find something you'll enjoy. As expected, you'll have to sit through ads, but ad-supported means free, right?
Libraries are most often associated with books, but that's not all they provide. Kanopy, like Hoopla mentioned above, lets you stream tons of "thoughtful entertainment" movies for free, as long as you have a participating library card or university login.
With one of those, you can watch hundreds of free movies. These include a lot of documentaries and international films, so this is a great fit for those who want something a little different.
Did you know that the well-known movie database also hosts free movies (through Amazon Video)? Launched in 2019, the IMDb TV service allows anyone with a free account to watch a selection of free movies and TV shows. In addition to watching online, you can enjoy this content on your Fire TV, Xbox, PlayStation, and other streaming devices.
In addition to movies, you'll also find some TV series (including live channels) and IMDb originals to enjoy.
As the name suggests, Free Movies Cinema features legal free movie streaming. Unlike many sites, the selection touts not only general categories like action and comedy, but also short films and features.
There's also a collection of fan-made movies, such as Portal and Watch Dogs, based on video games of the same names.
If you're looking for free documentaries, you'll find plenty at Top Documentary Films. It packs a varied selection, including amateur documentaries you might not have heard about before.
Browse the Top 100 documentaries to find something that's popular, or take a look at recently added movies or the various genres to drill down a bit.
The Best Free Movie Sites for Everyone
Enjoy the rest of the resources to watch movies, and Tv, free and you can figure out how to grab them to watch offline instead, use downloaders or extensions to grab them!
And do check the Topics I shared earlier, you folks have now too much to watch and spend time on!

ENJOY & HAPPY LEARNING!
Appreciate the share, don't be cheap!