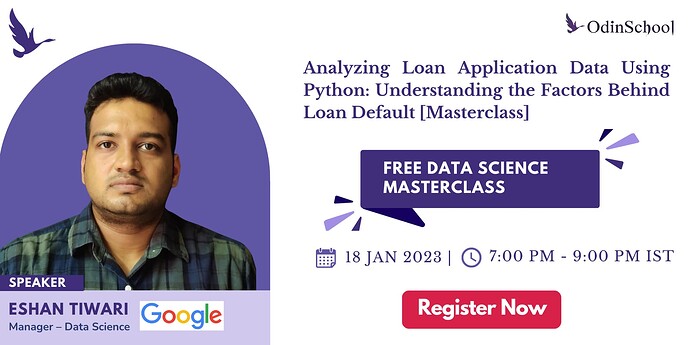 Learn how to analyze Loan Application Data using Python from Eshan Tiwari, Data Science Manager at Google. Get surprise benefits at the end of the Masterclass!
Who is this Masterclass For?
Data Science aspirant
Data Science enthusiasts
Professionals who want to switch to Data Science
Students
Benefits:
Interact with a seasoned Data Scientist
Learn how banks grant loans using Python and EDA
Get the speaker's Python programming code and raw data set
Win a Surprise Bonus at the end of the session
Date & Time: January 18, 2023 | 07.00 PM to 09.00 PM IST
Mentor details:
Name: Eshan Tiwari (LinkedIn)
Designation : Data Scientist | Career Coach | IIT-ISM Dhanbad Graduate
Eshan Tiwari is a Data Science Manager at Google and comes with 10 years of experience as a Data Science and Analytics professional. He has previously worked as a Data Science manager at Facebook. Eshan has an in-depth understanding of the data science and analytics job market and what employers are looking for in candidates.