All 1 Month & 3 Months Premium Accounts SOLD OUT!
Grammarly Premium Only Annual Subscription Accounts Available with Credit Card Attached for Auto Renewal!
---
---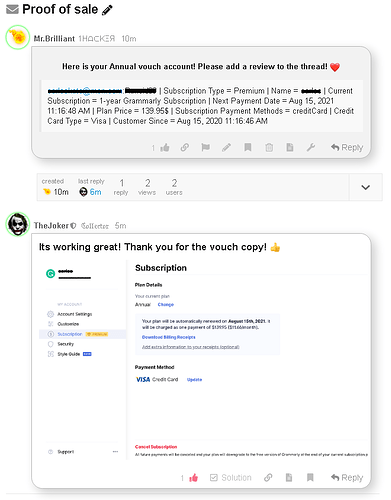 ---
---
Annual Subscription x1 Account = $6
---
PM me for Payment details @Mr.Brilliant as soon as I receive the payment I'll immediately send you the account credentials.
---
Disclaimer
Look all these accounts are Cracked!
Remember to not do anything that will trigger an alert to the account holder that something is fishy!
Nothing will happen to you, like police catching your collar or any bullshit. You're in safe hands!
Steps to follow before login
This way your account will be safe for future logins.
---
Things you should not do!
You are NOT allowed to change the password or anything on the accounts provided.
You are requested NOT to modify anything on the account related to billing info, plans & preferences.
You are not allowed to Edit or Delete existing data or change any settings on the accounts.
Do Not Use VPN! - Make Sure Your IP is Clean
---
Refund Policy
99% of my cracked accounts do work for 100% till the actual subscription end time period.
Just please, don't fckup em up with silly don'ts
x1 successful login period warranty after the purchase, you can logout, but I will suggest you to not! Still if you get stuck, no problem! I am here to solve your problem.
You will get an immediate replacement if the account subscription gets expired before your time period.
Note: You will not get refund if the account says password changed or incorrect after a successful login period, because it will be your fault, we never resell same account to anyone, it is you who might have done something that trigger the owner about suspicious activity.