One of the most frustrating Windows issues is slow startup. Especially after a recent update number of users report, Windows 10 boot time and startup is extremely slow. Few others report the system stuck on a black screen with the loading animation dots for a long time. And this is mostly because you have installed too many apps, System files get corrupted, Updates not installed correctly or you have installed an update bug. Here we have listed simple tweaks apply to Dramatically Cut Your Windows 10 PC's Boot Time speed up the start time
Slow boot problem on Windows 10
Slow boot times can be extremely frustrating, If you're also fed up with your laptop's slow boot speed, windows 10 take a long time to login don't worry We've put together some easy and helpful methods that usually fix the problem.
Disable startup program
When you install new programs, many will want to launch automatically when you start up your PC. Which means these programs, services load at startup and use unnecessary system resources. And stop programs loading at startup is the best way to boost your Windows 10 computer.
Open task manager using keyboard shortcut Ctrl + Shift + Esc
Here on Taskmanager If this is the first time you've used this program you'll need to click the More details option at the bottom of the window.
Now you should see a list of all the programs running on your system.
Move to the Startup tab, this will display all startup running apps list with startup impact.
Simply right-click on the application and select disable, Do the same with all startup applications.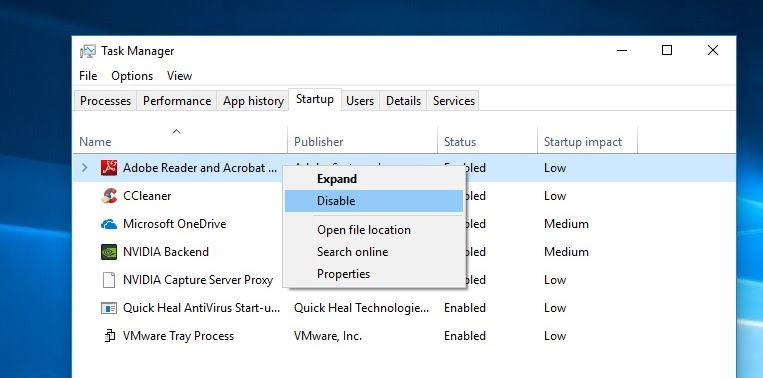 Disable Fast Boot
This is another tweak that Dramatically Cut Your Windows 10 PC's Boot Time and helps windows 10 start quickly. Fast Startup is default enabled feature in Windows 10. It is supposed to reduce startup time by pre-loading some boot information before your PC shuts off. It works in a similar manner to Hibernation. But in fact, as many users reported, fast startup causing issues Far and away, this the most problematic setting when it comes to boot time in Windows 10.
To Disable fast boot option
Open Control panel,
Search for and select power option,
Click Choose what the power buttons do in the left panel.
You'll need to provide administrator permission to change the settings on this page, so click the text at the top of the screen that reads Change settings that are currently unavailable.
Now, untick Turn on fast startup (recommended) and Save Changes to disable this setting.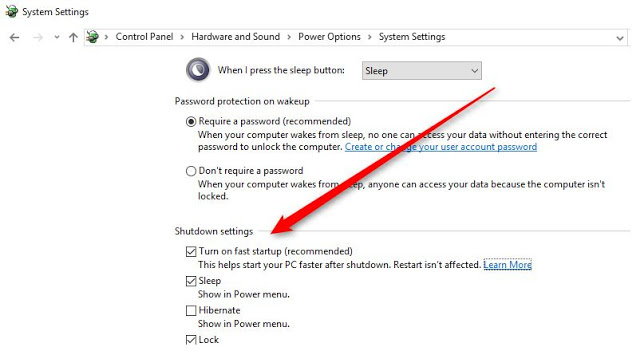 Adjust Virtual Memory Settings
Adjust virtual memory is another great way to fix Windows 10 slow boot issue and boost up windows 10 system performance. As the name suggests virtual memory a dedicate part of your hard drive as pretend RAM. And the more RAM you have then more tasks your system can handle at once, so if Windows is close to maxing out RAM usage, it dips into the virtual memory storage. Windows automatically adjust the virtual memory but you can tweak this setting for better performance.
Search for performance and choose the Adjust the appearance and performance of Windows.
Then Under the Advanced tab, you'll see the size of the paging file (another name for virtual memory) click Change to edit it.
What's important here is at the bottom of the screen you'll see the recommended amount of memory and a Currently Allocated number.
Users having issues have reported that their current allocation is way over the recommended number.
If yours is as well, uncheck Automatically manage paging file size for all drives to * make changes,
then choose Custom Size and set Initial Size and Maximum Size to the recommended value below.
Reboot, and your boot time should improve.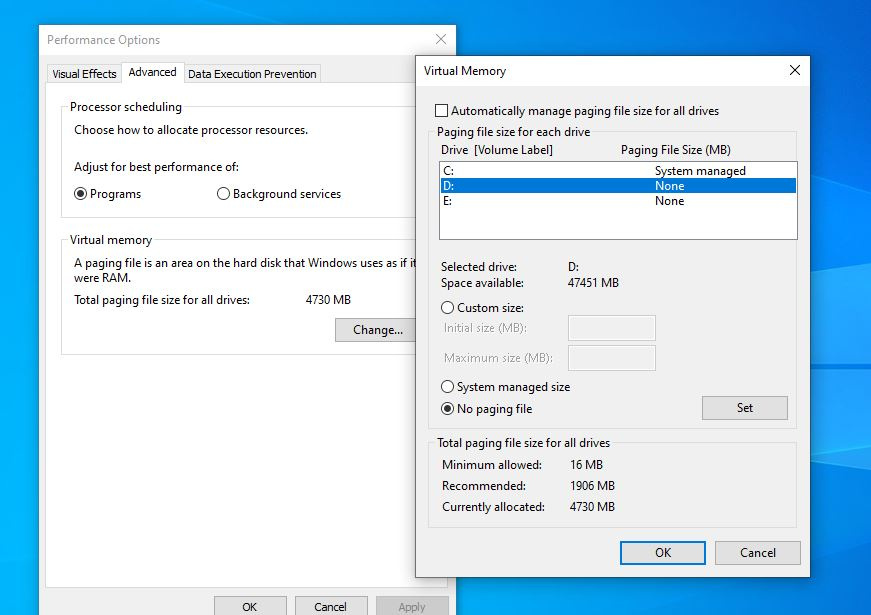 Install the latest updates
Sometimes you can fix the slow boot problems simply by installing the latest windows updates. Windows 10 usually downloads the necessary updates in the background, but you can always check for updates manually by doing the following:
Press Windows Key + I to open the Settings app.
When Settings app opens, go to Update & security section
Now click on Check for updates button
If any updates are available, they will be downloaded automatically and installed once you restart your PC. If your PC is already up to date, you might want to try a different solution.
Update Graphics Drivers
Device Drivers are the key part of the operating system because Windows uses drivers in order to work with your hardware. If a certain driver is outdated or corrupted, that can cause different problems at startup. Especially the Display/Graphics Driver which may cause slow boot issue, take a long time to load the system screen. And most of the users on Microsoft forum, Reddit reported that updating their graphics card drivers fixes boot issues, so let's give it a look.
Right click on Windows 10 start menu and select Device Manager.
Expand Display Devices to see which graphics card you're using.
Right click on installed graphics driver and select uninstall, then restart your computer.
Now you need to navigate to the vendor's website (or your laptop manufacturer's website, if you're using integrated graphics on a laptop) to check for the latest available driver simply download and install it.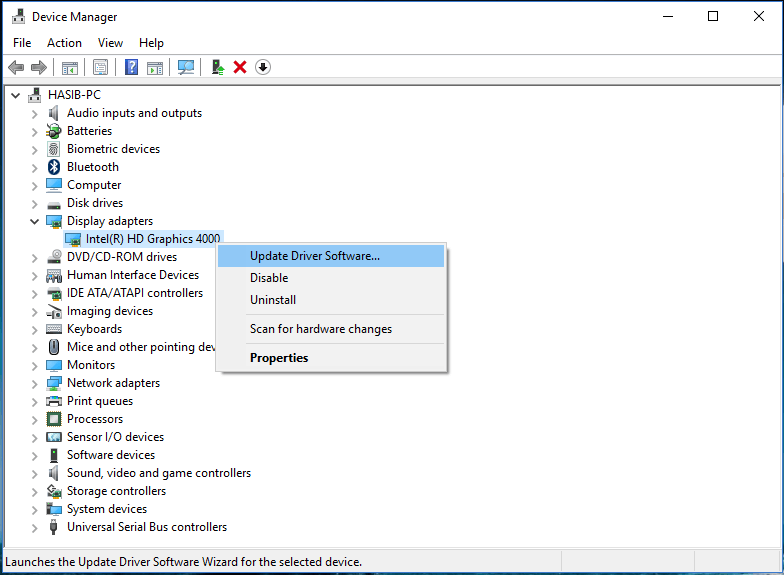 Also, make sure the system has installed the latest windows updates. Windows 10 is set to download and install the latest updates automatically, but you can manually check and install them from settings -> update & security -> windows update -> check for updates.
Remove Bloatware
Free up Disk space on your Windows Drive will make things easier for speed up windows performance and fix slow boot issues. To do this, you can run Disk Cleanup or manually delete things you don't need, often called bloatware.
To run Disk Cleanup, just search for it, open it and hit Clean up System Files.
It will then go through your computer and get rid of temporary files, installers, and other unnecessary stuff.
Also, you can run third-party system optimizer like Ccleaner to do the optimization with one click and also fix the registry errors.
If you have programs you don't use, you can uninstall them to reduce the startup time.
Press Windows + R, type appwiz.cpl and hit the enter key.
This will open Programs & Features, Select and right click on the unnecessary program and click uninstall to completely remove the program.
Cut down the boot time
When Windows starts up, you see the Boot Menu appear before the operating system loads. From this menu, you can choose startup options, such as Safe Mode. By default, the Boot Menu displays for 30 seconds. If you reduce this time, you can cut down your startup time by a few seconds.
To do this press Windows + R, type msconfig a nd hit the enter key. This will open system configuration window, here move to boot tab and reduce the timeout (which is by default on 30)
Run system file checker
As discussed before missing or corrupted system files also cause different startup problems. We recommend running System file checker utility which looks for corrupted system files if found any the utility will restore them from a compressed folder located on %WinDir%\System32\dllcache .
Open the command prompt as administrator,
Next, run DISM command DISM.exe /Online /Cleanup-image /Restorehealth
When the DISM command has completed, type sfc /scannow command to start scanning and repairing your system files.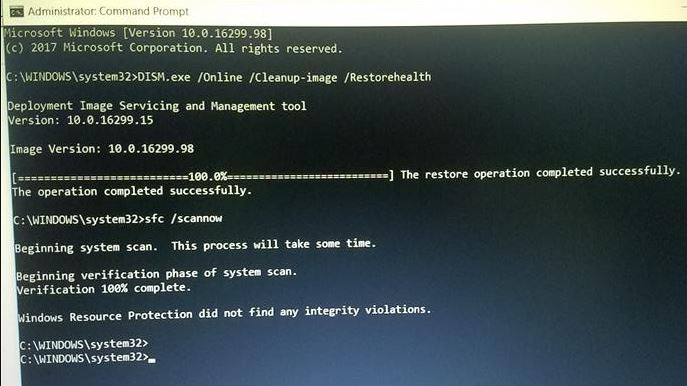 Also check the disk drive for errors using check disk command utility which fix most of the disk drive related errors, bad sectors etc.
Install a good antivirus with the latest updates and perform a full system scan regularly to keep your system secure from virus/ spyware infection.
Always avoid installing cracked, pirated, nulled applications. Only download applications from trusted sources.
I hope it will be helpful, good luck with fixing your os.