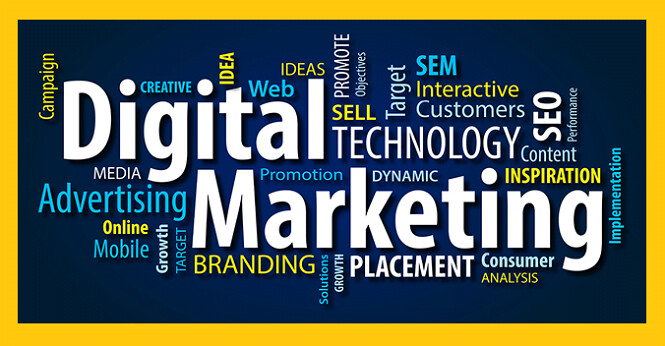 Hello OneHackers

Here is another interesting article on Building authority. Managing brand reputation. Generating leads.
Those three form the basis of the marketing strategy of every business, brand, or company. And every cent spent on any channel must be justified by delivering on all three and more.
The good news is: Quora does all that.
Quora is such a great platform to build authority, manage brand reputation, generate leads, and drive high-quality traffic to your website or socials, as the case may be. It's perfect for both B2B and B2C brands who wish to widen their reach and engage with clients.
In this guide, I'll be exposing why you should use Quora, and how it fits into your marketing strategy but before then…
# What is Quora?
Quora is a question-and-answer platform, covering every topic, industry, niche or subject area you can think of. Currently, there are over 400,000 topics, with more added daily. Queries could be as mundane as "where to get the best taco" to "how to perfect an SEO strategy"
Unlike other social media platforms, Quora is visited by people with high intent. The people asking questions are either on the way to making a purchase or open to product suggestions.
Additionally, you can use the questions to introduce your company or brand, fuel content strategy on other platforms, and perform market research.
# Why should you use Quora?
The reasons to include Quora in your marketing setup, are numerous but here are a few of them:
# The numbers
Quora is a goldmine. And the numbers prove this beyond any doubt.
Quora reported an active user base (keyword is "active") of over 300 million active users, in 2017. That's 300 million high-intent, potential customers for businesses to market to, on one platform.
Also, in an interview with PPCCHAT, Quora's head of content - JD Prater - revealed many businesses are dedicating more of their spend on Quora ads. This massive spending by businesses on the platform reinforces the value of Quora as a preferred marketing channel.
# Presents an opportunity for direct marketing.
You interact directly with customers, answer their queries and offer help when necessary. Doing so, ensure that your brand remains top of mind, and becomes the first business they consider when making a buying decision.
# Connect with subject experts for collaborations
You can connect with experts in your field by following the topics they follow, answering questions to gain their attention, and connecting with them after an upvote or like. These collaborations can boost your business significantly.
# Authority positioning
Being active on Quora gives you the opportunity to position yourself as an authority, increase brand awareness, and shape your brand's reputation
# Find opportunities to plug gaps in your content strategy and get ahead of trends
Questions and answers can be used to fuel your content generation and they allow you to get ahead of trends before they become viral. Also, the questions could be used as long-tail keywords to include in your blog articles and aid SEO.
# Quality leads
Quora is the best platform to acquire high-quality leads. In support of this, businesses that use Quora ads for lead generation, report that the conversion rate is 4x that of other platforms.
# Excels as a market research tool:
Asking questions and reviewing answers on Quora is a great way to feel the pulse in the market before a product launch. Also, if you already have a product in the market, Quora gives you insight into the complaints of your clients/prospects/customers which you can fix before they become worse.
# Educates people about your product
On Quora, customers ask questions regarding the usage of products, report issues they face, and the likes. Responding to these questions builds relationships with customers.
# Answered questions are perpetual sources of traffic
Every question that's answered, lives on the platform forever - that is if it doesn't close down. This answer could be an asset, perpetually generating traffic to your website.
# How to use Quora
# Step 1: Sign up
You can sign up with your email address, or any of your social accounts: Google or Facebook.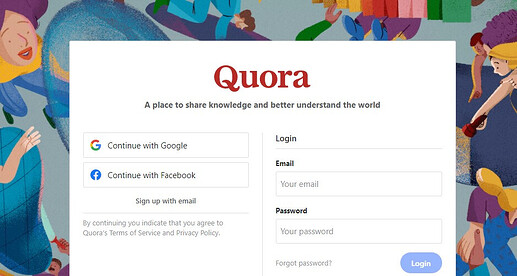 After you've signed up, you'll be required to follow at least, 5 topics. Follow all topics that align with your niche. The next page would be your homepage, personalised to reflect the topics you follow. Also, there's a sidebar at the left-hand side, containing topic-specific updates.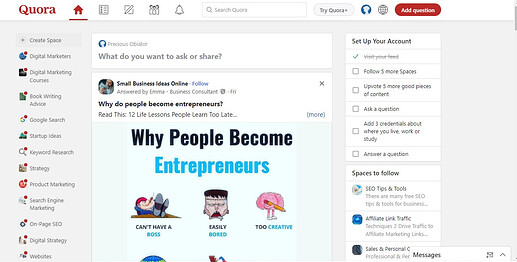 Clicking on any, would lead to another window with recent questions or answers, specific to the topic spaces related to it, that you could join.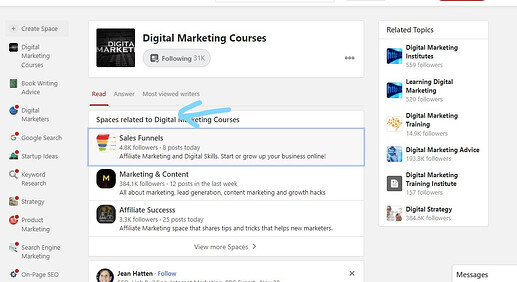 Also, you could follow other related topics from the sidebar, located on the left-hand side.
When choosing spaces and topics to follow, take note of the numbers: the number of followers, and contributors to the space. If the numbers are low, then being active there would likely be a waste of time. And since spaces are easy to create, there's a proliferation of spaces with no value whatsoever.
If you have a business, finding a brand-based space or topic is quite common. Join and follow such spaces and topics respectively. It's a great medium to get in front of customer complaints, keep abreast of brand mentions, and relate with customers.
# Step 2: Setting up your profile
Setting up your profile to evoke the needed authority, is the next step.
To do this, click on your photo at the top right-hand corner which leads to a window, from where you can edit your profile.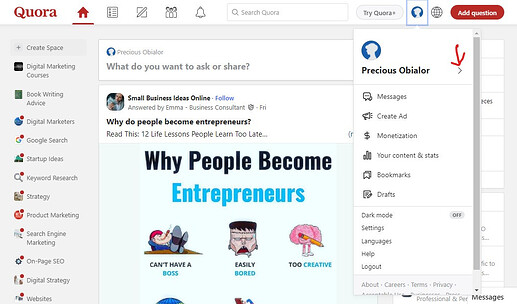 Include details of your experience, topics you're interested in, and a brief description of what you do. Use a real name - not a pseudonym - and a real photo. Unreal profile setups are associated with dishonesty which could hurt your brand. Below is a great example of a perfect profile of a popular digital marketer, Neil Patel: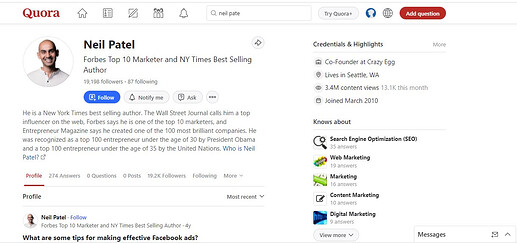 If you're still unsure of what to write, don't worry. A nifty way to set up your profile is to model that of experts in your industry.
You can find these experts, by entering their names in the search bar. Or you could use the profiles of the contributors in the spaces you've joined.
But don't copy their descriptions, verbatim. Use theirs, only as a guide. Showcase your uniqueness instead of copying theirs.
# Step 3: Describe experience with topics
To do this, go back to your profile and click on the "pencil" icon to edit your credentials. On the form that pops up, click on add credential and select topic.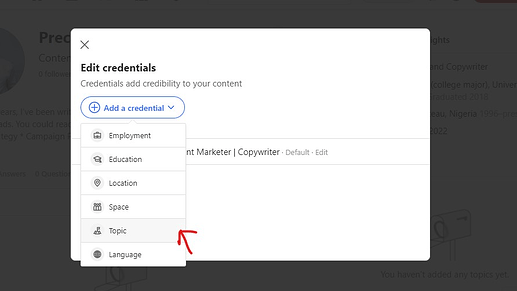 In the next window, select the topic you're knowledgeable in and describe your experience with it.
# Step 4: Follow thought leaders
Finally, follow thought leaders in your area of expertise. You can find them as contributors to the spaces you've joined or search for them with their names if you've interacted with them outside Quora.
# Step 5: Choose the frequency of emails you receive from Quora
To be effective on Quora, you'll need to answer questions promptly. That way, your answer is more likely to be upvoted and ranked high on the platform.
Linking your account to your email address recommends questions for you to answer based on your experience, topics you follow, and the spaces you've joined. You'll also receive updates on reactions to your answer or question.
To modify your email notifications, click on your profile picture and select settings.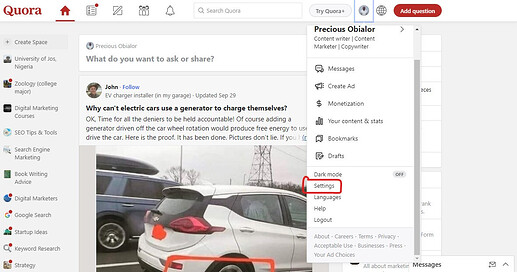 On the next page, select email notifications and manage the notifications you'll like to receive.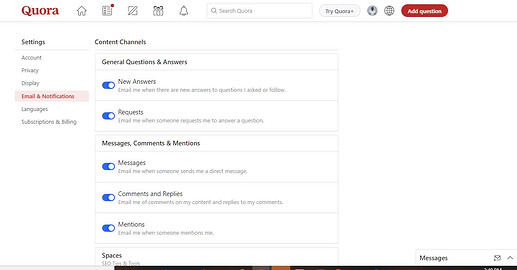 Remember to turn on permissions for all settings that could affect your answering questions promptly.
# Step 6: Begin to ask and answer questions
Now that your account is set up, you can begin to answer questions or ask them as you please.
But before you begin to answer questions, take time to review answers in your niche, with the most upvotes. Pay attention to the flow of thought, tone, and supporting information such as data. Use the information you've gotten, to develop your answers.
# How to answer questions
There are three ways to get questions to answer: use keywords related to your niche to search for questions: use the answer tab: answer related questions or those sent to you personally.
To search for questions on Quora, input long-tail informational queries in the search tab. They should align with your knowledge and experience. A great example is shown below.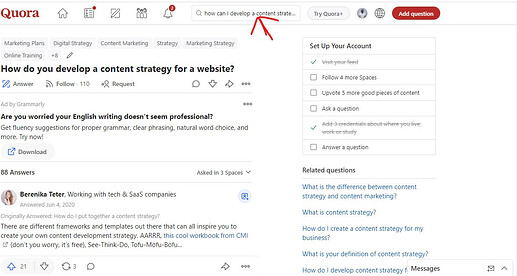 As you can see above, I'm searching for a question, using a long-tail keyword related to my industry - content marketing. It's important that you pick the best question to answer, which would give you maximum rewards for your effort. And for you to do this, two stats matter:
The number of people following a question and the views it has.
The number of followers tells you the number of people awaiting an answer to that question while the views correlate with the number of people who have vied the question. In both cases, the higher the better.
And as you would expect, it's important that you pick only questions you're confident of answering sufficiently to avoid being downvoted. Also, Quora curates questions for you, based on the topics and spaces you follow. To find these questions, click on the answer icon on the home screen.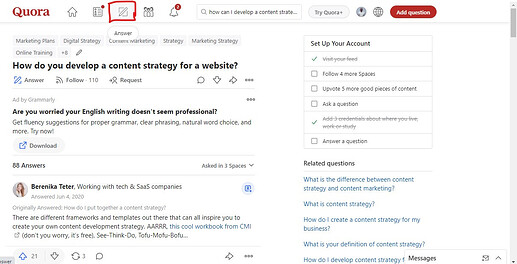 At the right-hand corner, there are three categories: questions for you, answer requests, and answer drafts.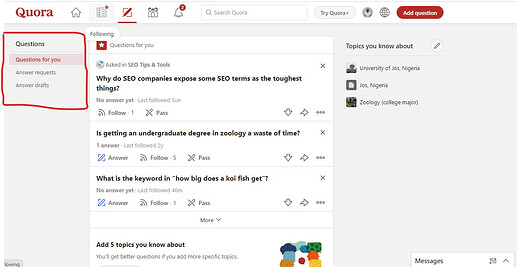 "Questions for you", are questions recommended to you, based on the topics you follow.
In this case, the only metric available is the number of followers and they should determine the questions you answer.
Finally, after you've built credibility, you may start to get answer requests from others. If you give a great answer, it could be the start of a relationship that would bring benefits both ways. Don't ignore related questions too. Other ways to get questions to answer, are through your notifications menu and in the spaces you've joined.
# Tips to answer questions correctly
To win with Quora, answering questions correctly is vital. It starts from the ideas you present, the proof you provide, and formatting your answers to aid readability. Here are some tips you could use:
# Notify for conflict of interests
If you have a conflict of interest with an answer, include a disclaimer. It could be subtle, or direct.
# Offer unique answers
Your answers should be unique and original. Or else, your answer would be downvoted. Worse still, you can get suspended or lose your reputation. But if you're repeating someone else's answer, offer a unique viewpoint, new data, a real-life example, etc.
# Add hashtags
After you answer a question, add a topic that appears as a hashtag. That way, your answer gets a wider reach.
# Answer popular questions, both old and new ones
It's a great strategy to cherry-pick old questions with the highest number of followers and views. But you should also mix it up with new questions too, to protect your account from getting banned.
# Choose questions in a niche you're knowledgeable in
The niche you choose should be one that you're knowledgeable in. The broader your knowledge on a certain topic, the better your answers. And great answers are the only way to win, and win big on Quora.
# Include links to your article
This is a nifty way to drive traffic to your blog, post-click landing page, or website. It should be along the lines of "if you need more details, here's an article/research on it". If your answer is good enough, they would go for it.
# Be smart with your anchor links
When you use anchor links, the words should flow with the rest of the sentence so as not to distort the information you're trying to pass across.
# Don't go overboard with links.
Insert links, only if necessary. If using many links would give a better explanation to the question, then you should do it. But the content on the other side of the link must be relevant to the question.
# Mention your brand or product, only when it's necessary
The goal is to not sound pushy or salesy. Limit mentioning your product or brand, to when it's absolutely necessary and when you do, focus squarely on how your product can solve their problem. A person who's asking a question is more concerned about how the product can solve their problem, than the features it has.
# Reread your answers to weed out grammatical errors and the likes
Write straight out of your head but take time to go through it and ruthlessly edit. Pay close attention to punctuation, tenses, logical flow, and the likes.
# Use data to support answers
When you include exact data, it gives credence to your answer and shows that you've spent time researching before you answered. Hence, your answer is more likely to be upvoted.
But don't conjure data from out of the blues. Ensure that the data quoted is correct, and recent.
# Write conversationally
The human mind is naturally wired to be receptive to stories. We all love stories.
When you write on Quora, use a conversational tone, just as you would when writing a story. Infuse emotion and use words that engage the imagination of your readers.
# Include visual content
When you include visual content - info-graphics, graphs, screenshots, and the likes - your answer appears better. Take the two answers below for instance.
Also, since our brains process visual information better than textual content, the answer is easily digestible and understood. And since it's easily understood, people are more likely to engage with it.
# Format properly
Bolden or italicize to emphasize vital aspects of your answer. This is helpful especially for scan-readers, who may not have the time to go through the entirety of your answer. And it causes your readers to focus on the key elements of your answer.
Additionally, use short sentences and paragraphs and cut out the fluff.
Finally, create just enough white space to aid readability and use bulleted lists where necessary, and alternate between long and short sentences.
# Don't be a smart ass
You don't know it all. Nobody does. If you disagree with the point of view of a person, be polite about it and present your reason. But ensure that you support it with relevant facts else, you'll be viewed as a know-it-all who knows nothing.
# Avoid collapsed answers
Collapsed answers could result from unverified identities, down-votes, and untimely adherence to corrections suggested by the moderator. To avoid this, link socials, answer with statistics or cite your personal experience, and verify your identity.
# Write with confidence
You'gat this! You have the knowledge. It's now left for you to write like you know the topic, in and out.
# Additional Tips
# Answer with authority
Aside from having a great profile, answering questions with sufficient information and confidence, shows that you're an authority. Go deep. Cover all information relating to the question asked. The goal is to make your answer stand out from the crowd.
# Ask questions to engage the audience
Questions are a major part of Quora. And instead of only answering them, you can ask too.
Personalized queries, get more traction than general queries. For example, asking "what is the best tool to edit content" may not generate significant engagement. But changing it to "what tool do you use to edit your contents" elicits more engagement.
Also, you can ask queries that are product or brand-related. It's a great way to engage your customers. They cease to be mere statistics and grow a personal attachment to your brand or product.
# Find your audience and research their needs
Do you want to know what your customers are asking? Search Quora or ask questions.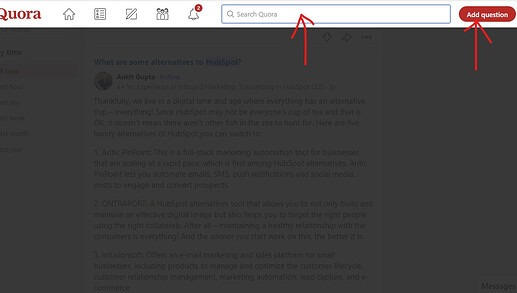 You can use specific question-like, long-tail keywords to perform a search. And then pay attention to the answers with the most upvotes, to know their preferred solutions. Or if you have a product or brand, brand-related or product-related questions would suffice. Doing these puts you in front of complaints, which if not resolved quickly, could come back to hurt your brand or product in the long run.
# Follow industry experts to keep abreast with trends.
Things are changing. What you knew yesterday, becomes outdated in the next minute. Or the next second. That's why you need to stay updated on the latest trends, tools, and knowledge. And following industry experts on Quora, is a great way to do so.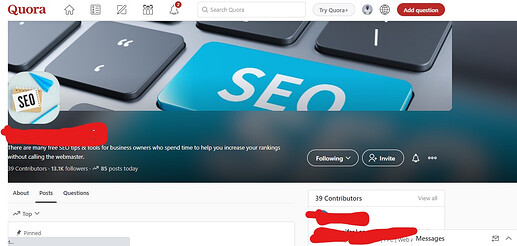 To find them, go through the spaces you follow, scroll through the list of contributors, and select those that match your industry or niche. You could also input their names into the search bar.
After you've followed them, watch out for the answers they give and the questions they ask. Quora sends them to your email address by default.
# Direct traffic from your socials and websites
You can publish the link to a question you've answered on your socials or website in case your customers have the same question.
This also leverages the loyalty and community you've built on other platforms, to grow your credentials on Quora, and take your answer to the top position on the platform.
You could add links to your blogs too but they wouldn't help your SEO directly, since they're no-follow links. However, it drives additional traffic of people already in the middle of the funnel to your website. These people are likely to make a purchase in the long run.
# Be human but know your boundaries
Skip cringe-worthy jokes or comments. Remember that you're representing your brand. Relate with each person, as you'll want your company to be presented. Most importantly, resist the temptation to engage in arguments. If you intend to make a correction, do so with respect for the other person.
# Monitor brand mention
Set up a google alert with the string: quora (name of the brand). For my brand, it would be something like this: Quora (oapwrites). You can use the same format, for various keywords, rival brands (gives you an insight into what's trending), and likes. You can also use mention to monitor brand mentions on the web, including Quora.
# Monitor competitors
Also, you could use quora to monitor your competitors. Users on Quora are always trying to compare two products, complain about a product they're using, and so on.
When you follow topics, you get notified of answers and questions. And most times, your competitors may just be mentioned. However, be careful when suggesting your brand or product as an alternative. It may come across as being spammy or straight-up offensive.
# Be consistent
To reap the benefits of Quora, you'll need to be consistent. Consistently deliver value-packed answers, offer assistance to other users, and the likes. Consistency is rewarded with increased brand awareness, and getting ranked as a top writer. When you're ranked as a top writer, your answers would be emailed to followers of a topic.
# Constantly monitor
It makes no sense, to spend time and resources without checking if you're getting results. Hence you should always monitor your progress, using inbuilt statistics on the platform, or through Google analytics.
For your answers and questions, the statistics available, include:
Aside from your questions and answers, keep an eye on the growth of your follower-ship, and the questions or answers with the most engagement.
Finally, just like any other marketing channel, you could connect your Quora account to Google analytics. You could use UTM tags and goals.
Overall, always monitor your progress to determine if your strategy is working out, or needs modification.
# Hire someone or delegate the work
Marketing with Quora may seem like a full-time job. Well, that's because it sometimes is.
If you feel overwhelmed, you could hire someone experienced, an agency, or delegate the responsibility to someone within your company.
# Participate in spaces
Participating in spaces is a great way to increase your reach. You could create yours, by clicking on create space, located at the top right-hand corner of your home screen.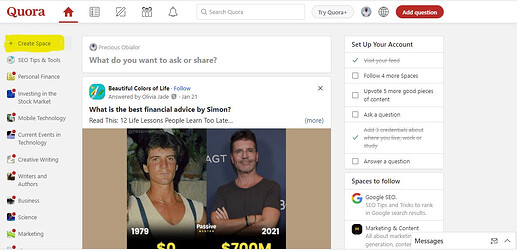 But creating a space means building a whole new community. And it takes a long time. More time than you can spare. It's better to apply as a contributor to a space, which aligns with your industry, has many followers, and has recent posts. That way, you'll leverage the community to build your brand and promote your products. (Thanks to Akachukwu Obialor for writing & hackernoon)
# Finally,
Quora is a great addition to your marketing channels.
And to be successful with it, you must give the best answers, make it readable, and visible. The more you help, the greater the possibility of getting leads from the platform.
As time has proven, volunteering to help others, comes with brings benefits in the long term: to you and your business.
ENJOY & HAPPY LEARNING!
Appreciate the share, don't be cheap!