$20
Conversion AI
BOSS MODE

Cracked Account | Jarvis - Copywriting Assistant
Conversion AI is software that automatically generates website content, copywriting, articles, social media posts, and books . The software helps you create original, accurate, and non-plagiarized content faster.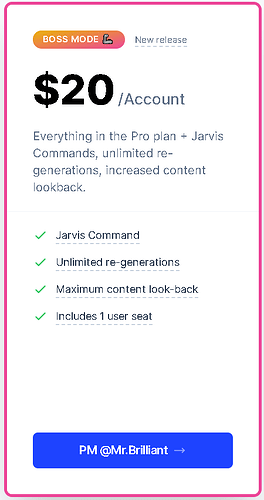 ---

---
PM me for Payment details @Mr.Brilliant as soon as we receive the payment we'll immediately send you the Batch.txt
---
All accounts were well checked before passing it to you & are cracked with private proxies and recent leaked combo list that are nowhere available + we have a reputed name here on 1Hack we will never resell the same batch to anyone else here or outside, when we deliver the batch to you, we immediately remove it from our database.

As, there will be no replacement given, if you fckup then he must be sharing accounts with too many people.
---
Notes for buyers before hand.
Things they should not do!
You are NOT allowed to change the password or anything on the accounts provided.
You are requested NOT to modify anything on the account related to billing info, plans & preferences.
You are not allowed to Edit or Delete existing data or change any settings on the accounts.
Do Not Use VPN! - Make Sure Your IP is Clean
Strictly 1 device login only!
Steps to follow before login
This way your account will be safe for future logins.
---
Disclaimer
Look all these accounts are Cracked! Yes!
Remember to not do anything that will trigger an alert to the account holder that something is fishy!
Nothing will happen to you, like police catching your collar or any bullshit. You're in safe hands!