After x300 successful sales on 1Hack!!!

---
For $15 you will get YouTube LifeTime Premium + Music Auto Upgrade/Renew Every Month | Family Invitation Link On Your Existing YouTube Account !
NO bull shitt, straight Premium Family Invitation Link !

Your account will remain premium every month until one of us dies!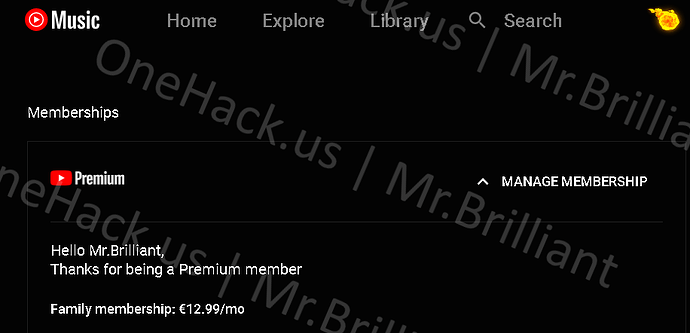 ---
Subscription will be LifeTime!
It is. Being desirous for providing more high-quality products & we are confident to guarantee that this lasts lifetime.
YouTube .com + Music Premium Access

LifeTime Warranty & 0% Kick Rate

Upgrade to you Own Account

No ad interruptions - fck those johinson baby ads.
---
---
Q: How does it work?
A: After you buy the upgrade, I will give you invitation link to the "Family Plan" you have to open and click on Get Started button and continue whatever comes next.

Q: Do you need my password and email?
A: Nothing, just open my provided Invitation link and join the premium subscription.

Q: Does this service really have 0% kick rate?
A: Yes, 100%, I guarantee that you won't get kicked.

Q: What if something goes wrong?
A: A lifetime warranty means that I will always replace if something happens as long our shop is up.

Q: Can anything happen to my YouTube account?
A: No, nothing will happen.


---
10% Chance of getting this 2 ERRORs, below are the fixes… Don't panic!

If you see 12 months error, follow below steps…
Make a new account, you have been already in family.
---
If someone gets the country didn't match the owner family, just follow below steps…
then go to last section aka settings
then scroll all the way down
and close payment profile
---
PM me for Payment details @Mr.Brilliant as soon as I receive the payment I'll immediately send you the account credentials.
---
Given Invitation links for Premium Family Plans are legit, not any kinda hacked one!
---
Refund Policy
Still if you get stuck, no problem! I am here to solve your problem.
You will get an immediate replacement if the account subscription is not there as mentioned.
Add a good review to get a small gift