$15 Outlook EDU USA Email | Amazon Prime Video + Twitch Prime + Canva PRO Owner Team Account + Free Microsoft Office 365 + 1TB OneDrive & More…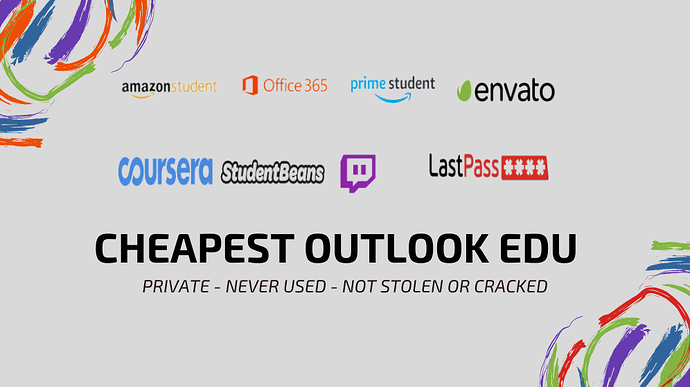 ---
You can apply on these…
– Microsoft 365 (Free Lifetime with OneDrive 1TB)

– Namecheap (1 years .me TLD domain and 1 year SSL Certificate)

– Amazon Prime Student + Amazon Photos 6 Months Trial Free (cc required! Don't worry, your cc won't be charged)

– Canva PRO Owner Team Account (Invite 3000 total students)

– Educative (6 Months Validity with 60+ courses)

– LastPass 6 Months Free

– Spotify/Hulu/Showtime (1 Month Trial After that 50% Discount)

– Lucidchart - web-based diagram software and flow chart maker (free)

– Roboform Password Manager Free

– Vertabelo - Database Modeler (Free)

– Dropbox (Extra 500mb)

– Notion.so - Notes, Tasks, Wikis (Free)

– Audible (Free 1 month Trial)

– Adobe Creative Cloud. Get 20+ apps Students and teachers save over 60% OFF

– Best Buy (Student Deals & Discounts)

– Mindsumo (Get paid to solve problems)

– The NEW YORK TIMES

– COURSERA

– ENVATO ELEMENTS DISCOUNT

– LOOM

– AND MORE
There's more to this…!
Just Google for
"
edu discounts
" OR "
edu email benefits
"
&
Get more from your edu email!

Note: Not every service you find in Google can be verified with this edu email.
---
What you will receive from us!
You'll Receive an Email Ready to use, with Outlook login
University Login URL + Inbox URL + Email Address + Password!
---
---
---
Q. What is the name of the university?

A. Sorry, we cannot disclose the name/domain or url of the university, you have to purchase & check!
Q. Can I change password & other details?
A. Yes, only password is changeable! Let other details be as it is…
Q. Will this work for GitHub Student Pack?
A. No! It will not!
Q. Can I get this product/service benefit/discount using your edu email?

A. Please, Google it & try on your own!

---
Refund Policy
No refund policy, because these accounts are private, if you fck up, it means you did something suspicious from University's end.
Still if you get stuck, no problem! I am here to solve your problem.
Note: You will not get refund if the account says password changed or incorrect after a successful login period, because it will be your fault, we never resell same account to anyone, because you already changed the password, how can we resell it? it is you who might have done something that trigger the University about suspicious or fishy activity.