After x500 successful sales on 1Hack!!!

---
For $10 you will get Spotify Premium LifeTime Upgrade + On Your Existing Spotify Account !
Stop using monthly expiring poor shitt!

Get yourself a decent LifeTime Premium Subscription like this!

Your account will remain Premium until I get myself a Rolls-Royce with 3 tires! I think that's a rickshaw then

anyway, its a vehicle though.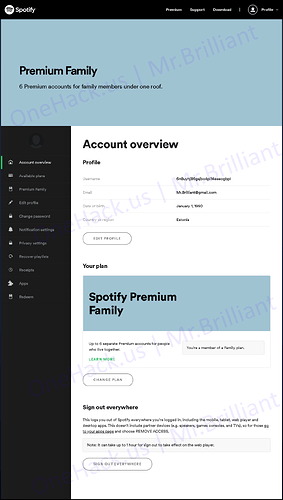 ---
Premium Subscription will be there for LifeTime on your account, stop asking me same thing in PM over & over again!

It is. Being desirous for providing more high-quality products & we are confident to guarantee that this lasts lifetime.
What I need from you to process order?
I'll need your email address & password for manually activation & don't worry you can later change your password and add more security to it


Delivery time is between Instant to 8 hours max, if I am not sleeping


---
Q: I don't have an exisiting Spotify account?
A: Inorder to manually upgrade we will need an existing account, incase you don't have it, better create one, it take hardly 2 mins to create!

Q: Does this service really have 0% kick rate?
A: Yes, 100%, I guarantee that you won't get kicked.

Q: I got 12 months error, what should I do?
A: Make a new account, you have been already in family
Q: What if something goes wrong?
A: A lifetime warranty means that I will always replace if something happens as long our shop is up.

Q: Can anything happen to my existing Spotify account?
A: No, nothing will happen.


---
PM me for Payment details @Mr.Brilliant along with your email address & password! As soon as I receive the payment & details to send invitation I'll immediately complete the order.
---
Given manual upgrades to activate accounts to Premium are totally legit, not any kinda hacked one!
---
Refund Policy
Still if you get stuck, no problem! I am here to solve your problem.
You will get an immediate replacement if the account subscription is not there as mentioned.
Add a good review to get a small gift