Hello all member 1HACK!
I would like to share a tool that I have used to design web.
Crocoblock is called as "All-In-One ToolKit for WordPress Nerds"
You thought you were done with your excitement with what you could achieve with Elementor or Elementor Pro? You haven't seen nothing yet. Let's try Crocoblock and see just how you can build on top of your Elementor websites.
Crocoblock comes with various products in their stable, which include:
Dynamic WordPress templates: Fully-functional WordPress templates which you can use to plug-and-play.
Regular WordPress themes such as Kava and Kava Pro
A mind-boggling array of WordPress plugins which can make even an 8th-grade child an expert on WordPress
Extras such as an Interactive Pop-up library and Pop-up templates to make your WordPress site a lead generation machine.
And I'm sure that there will be more suprised things about this web You could not miss the change for trying. Crocoblock is very much more incredible than anything you have ever known before.
Features:
JetElements - $24

JetBlog - $19
JetTabs - $15
JetTricks - $19
JetEngine - $26
JetBooking - $19
JetAppointment - $19
JetWooBuilder - $24
JetProductGallery - $15
JetCompareWishlist - $15
JetReviews - $22
JetSearch - $19
JetSmartFilters - $24
JetMenu - $24
JetBlocks - $19
JetPopup - $22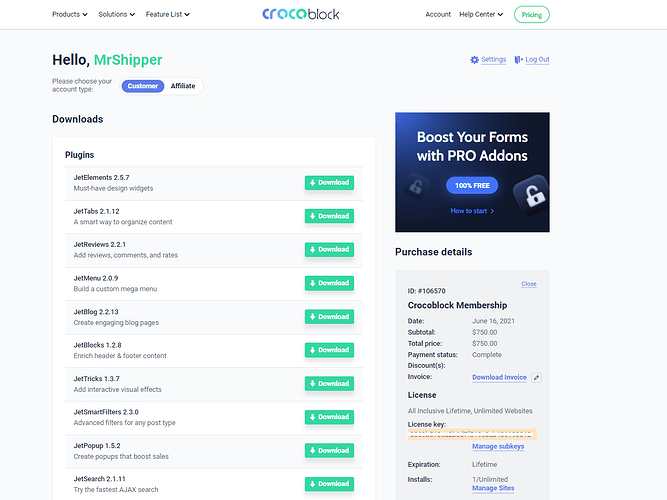 The process to get the License:
Give me your name website via PM

I will send the License Key to your PM

Setup for your wordpress and like my share!